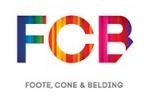 FCB Worldwide,
New York
Follow
Update
100 West 33rd Street
New York, New York 10001-2900
United States
Phone: 212 885-3000
Fax: 212 885-3300
DRAFTFCB: 2012 At A Glance
January 13, 2013
RANKING:
• In April, Ad Age reported that we currently rank as the world's 8th largest agency network (up 5 positions since 2007) and the 3rd largest agency across all disciplines in the USA (up 2 positions since 2007.)

NEW BUSINESS:
• Wins in the U.S. this past year included Cox Communications, Discover, SeaWorld/Busch Gardens, Fidelity Investments, Amtrak/Acela, Paper Mate, the FDA's Anti-Tobacco effort (after a review that began with 45 shops) and Air New Zealand (won first in New Zealand), plus nearly 200 other new clients across our global network. We beefed up our formidable Healthcare offering with the Hudson Global acquisition, and enhanced our digital offering in S. Africa with the acquisition of Hellocomputer.

ORGANIC GROWTH:
• We received additional assignments from Abbott, Johnson & Johnson, Nestlé, Lilly, Merck, Cadbury, Valspar, Volkswagen, Sony, Newell-Rubbermaid, Kmart, U.S. Census Bureau, and retained our Jamaica Tourism account after a mandated review.

CREATIVE:
• Our creative product continues to improve with 195 major awards won. We tripled our Lion count at Cannes in 2012, winning 17 Lions. Nearly 30 times this year, our work was ranked by Creativity Magazine on its Adcritic Top 20 – which is more than we'd ever been listed over the last past five years. Our Effie performance on the local, regional and global level was first-rate, with Draftfcb now ranking as the 6th most effective agency in North America and the 12th most effective network in the world. New Zealand was once again named the Most Effective Agency in the world for Government and Non-Profit social change campaigns, and ranked as APAC's 5th Most Effective office across all categories and the 7th Most Effective office in the world, up one spot from 2011. Austria was named that market's Most Effective agency.
• We also won more Ogilvy Awards than any other agency, a sign that our commitment to customer intelligence and brilliant strategies is paying off. In February, the well-regarded TED organization named our Sharpie campaign one of its prestigious "Ads Worth Spreading."
• Forbes declared our Kmart Halloween spot to be "brilliant." Buzzfeed proclaimed our Oreo Halloween ad "simply perfect." Our new "Live Más" tagline for Taco Bell and widely covered work for Doritos Locos Tacos and Cantina Bell were credited with record-breaking sales. Our favorite line comes from Creativity: "Oreo's creativity continues to make us gape."
• Various year-end "Best" lists included several Draftfcb campaigns: the universally lauded Oreo "Daily Twist" (New York); MINI/SPCA "Driving Dogs" (New Zealand); USPS "Holiday Returns" (Chicago); Tata Docomo's "Lipstick" (India); Shelter Pet's "Sandbox" (Chicago); and PFLAG's "Stories" (Toronto).
• Draftfcb in Johannesburg's was named "Top Brand Agency of the Year"; Spain was voted the market's "Most Creative Agency"; Chile was again named "Digital Agency of the Year" for the 5th straight year; Switzerland became the 7th most creative agency, up 8 spots from 2011; the U.S. agency ranked #1 on the PROMO 100 list for the 5th straight year; and for the 3rd consecutive year, Healthcare was named the "Most Creative Agency" at the Manny Awards.

PEOPLE:
• Kate Howe was appointed President of Europe. In Asia, Jonathan Allard was named COO and James Mok, regional ECD. In South Africa, John Dixon was named "Agency Leader of the Year" and ECD Neo Mashigo won the "New Broom" Award; and in Hong Kong, managing director/ECD Iris Lo was named a "Woman to Watch" in APAC.

DIVERSITY & INCLUSION:
• On the D&I front, Draftfcb was named "Agency Champion of Inclusion" at the IPG Merge Awards with Keisha Vaughn being named "Chief Diversity Officer of the Year"; she also was named a "Diversity Champion" at World Diversity Leadership Summit (WDLS). Laurence Boschetto was named a "Diversity Affluence D&I Champion." Peter Drakoulias was named an "Adcolor Change Agent." The agency participated in/sponsored such D&I events as WDLS, Merge Awards, Adcolor, AAF National Conference, LEAD, the LaGrant Foundation, TORCH and the 4As.