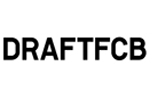 Draftfcb Worldwide,
New York
Follow
Update
100 West 33rd Street
New York, New York 10001-2900
United States
Phone: 212 885-3000
Fax: 212 885-3300
Sachin Das Burma adds to Draftfcb Ulka's muscle
February 13, 2013
Sachin Das Burma has joined the Delhi office of Draftfcb Ulka Advertising as a Group Creative Director. Sachin comes to the team having built his credentials across several marquee brands like Hero, Airtel, Nokia, Pepsi, Timex, GSK, Dabur, amongst others, and having earned recognition at all premiere advertising forums like Effies, Goafest and D&AD. He has worked at Contract, Bates & most recently was the Senior Creative Director & VP at JWT Delhi.

Announcing this significant move, the K S Chakravarthy (Chax), National Creative Director, Draftfcb Ulka Advertising commented "Sachin is a natural-born big ideas guy who enjoys working on big, challenging brands as much as he enjoys doing fun creative stuff. I am confident he will effortlessly fit into our high quality team in Delhi, and help drive our creative agenda."

Sanjay Tandon, COO, Draftfcb Ulka Advertising, Delhi said "In Sachin, beyond the competence, I see values that are dear to us – stability, team work & desire for excellence. He joins the senior team to push us faster towards where we want to go…creating game changing ideas that Build BrandWealth."

A charged up Sachin said "I have always liked the Draftfcb Ulka way of thinking and wanted to become a part of a team that cherishes common values." Referring to Arvind Wable, Advisor to the Board, he stated "Arvind's long term belief in a 'happy people culture' and its effect in building a strong business for over 20 years, was a convincing factor in my decision. And being hired by Chax was indeed a high."

About Draftfcb Ulka Advertising:
Draftfcb Ulka Advertising is a member of the Draftfcb Ulka Group, India's third largest marketing communication group with over 200 clients, 850 professionals working across eight offices in seven cities, covering a diverse spectrum of services including advertising, media, digital, direct, analytics, brand consulting, activation/brand experience etc.