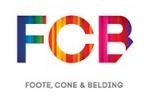 FCB Worldwide,
New York
Follow
Update
100 West 33rd Street
New York, New York 10001-2900
United States
Phone: 212 885-3000
Fax: 212 885-3300
DRAFTFCB CELEBRATES RECORD AWARD-WINNING RUN
May 8, 2013
Ground-breaking. Brilliant. Creative. Innovative. These and other superlatives have been used to describe the award-winning work of Draftfcb's global network since the beginning of the year.
In Lima, Peru, advertising and technology joined forces to create the first outdoor billboard that converts moisture into drinking water to encourage enrollment in the engineering program at UTEC, a local University. Our New Zealand office and its MINI client worked with the Society for the Prevention of Cruelty to Animals (SPCA) to prove you can teach a dog amazing new tricks. And our New York team created 100 ads in 100 consecutive days for Oreo, each with a distinctive and timely twist tied to the trending topic of the day.
Each campaign has demonstrated strong, lasting results. The UTEC billboard not only led to record enrollment in the engineering program, it has become a source of safe, clean water for hundreds of families and neighboring zones in desert-like conditions. New Zealand's "Driving Dogs" had people all over the world talking about SPCA rescue dogs and changed how rescue animals are viewed, while leading to a surge in shelter pet adoptions. New York's "Daily Twist" campaign started by revolving around the day's news and current events to commemorate 100 years of Oreo, and by the end resulted in booming sales and unprecedented buzz across traditional and social media channels.
These rewarding campaigns have also been golden (and silver and bronze) for Draftfcb in recent months, and continue to garner accolades. On May 8, the prestigious One Show awarded four Draftfcb offices with six Pencils. New Zealand won two Pencils: Gold for SPCA/MINI "Driving Dogs" and Silver for PRIME TV "Secret Diary of a Call Girl". Peru won two Silver Pencils for UTEC University "Potable Water Generator" while Chicago won a Bronze Pencil for Valspar "Cityscapes." And, our Cape Town office in South Africa won a Bronze Pencil for Engen "Fire Blanket Calendar." An additional 10 campaigns from six offices achieved merit status in the consumer, brand transformation, collateral, experiential and interactive categories.
So far this year, "Driving Dogs" has also won two Golds and a Bronze at the 54th annual Clio Awards. At the elite D&AD awards, it took home four 'In Book' entries. At the New York Festivals, it won a Gold World Medal, a Silver World Medal and two Bronze World Medals. It also won the IABNZ Online Creative Award for 2013 and was named the winning digital campaign of 2012 in the Yahoo! New Zealand Digital Strategy Awards. It received an "Official Honoree" award from the Webby Awards. And, Fast Company named it one of its Top 15 ads of 2012.
The Oreo "Daily Twist" campaign has raked in multiple awards, winning the Blue Facebook Studio Award, Facebook's highest honor for creative excellence. It won an Interactive Gold from the ADC Awards and two "In Book" entries at the D&AD awards. "Daily Twist" also received a Gold ANDY Award, won a Gold, Silver and two Bronze CLIO Awards and is up for three awards at the upcoming North American Effie Awards.
After months of countless positive headlines all over the world, the UTEC billboard was awarded the top GRAND PRIX prize during the 5th annual Internationalist Awards for Innovation in Media. It also won a Gold CLIO and is up for an award at the upcoming D&AD Awards. The billboard was a winner at the Adweek Isaac Awards in Out-of-Home Media Invention.
In addition, other campaigns including Tamanna "September Christmas" created by our Lebanon and United Arab Emirates offices, MilkPEP "Latte Love" by Chicago and ZonaJobs "Grandma" by Argentina won coveted honors. For a complete list of awards to date, click
here
.
About Draftfcb
With an equal focus on creativity and accountability, Draftfcb is committed to producing brilliant ideas that change consumer behavior. As a global, fully integrated marketing communications agency operating against a single P&L, Draftfcb provides clients with highly collaborative, channel-neutral thinking that delivers engagement and, most importantly, action. With nearly 140 years of combined expertise, Draftfcb has roots in both consumer advertising and behavioral, data-driven direct marketing. The Draftfcb network spans 150 offices in 90 countries and employs nearly 9,000 people. The agency is part of the Interpublic Group of Companies (NYSE:IPG). For more information, visit
www.draftfcb.com
.