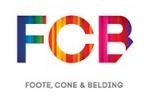 FCB Worldwide,
New York
Follow
Update
100 West 33rd Street
New York, New York 10001-2900
United States
Phone: 212 885-3000
Fax: 212 885-3300
Draftfcb Global Offices Win Big at New York Festivals
May 2, 2013
At the 2013 New York Festivals Awards Show, held last night in New York City, Draftfcb's global network was a big winner, leaving the ceremony with eight World Medals.

This successful performance at The New York Festivals continues a streak of major creative award wins for the agency in 2013.

At last night's show Draftfcb had 16 shortlisted entries, with eight ultimate winners: two Gold World Medals, two Silver World Medals and four Bronze World Medals. The winners included:

• "Driving Dogs" for SPCA & MINI - Draftfcb New Zealand won a Gold World Medal in the Digital: Viral – Video category, a Silver World Medal in the Public Service Announcements: Collateral / Direct Marketing - Civic & Social Education category, and two Bronze World Medals in the Branded Entertainment: Products & Services - Automotive Products & Services category and in the Creative Marketing Effectiveness: Best Use - Low-Budget category.

• Oreo "Daily Twist" for Mondelez International - Draftfcb New York won a Gold World Medal in the Digital: Websites & Microsites: Products & Services - Snacks & Sweets category, and a Silver World Medal in the Direct & Collateral: Use of Medium - Social Media & Viral Marketing category.

• "Philharmoniker – When Music Starts to Flow into Pictures" for The Hamburg Philharmonic Orchestra. Draftfcb Germany won a Bronze World Medal in the Outdoor: Craft – Illustration and Integrated Illustration category.

• "Call Girl" for Prime Television - Draftfcb New Zealand won a Bronze World Medal in the Radio: Craft - Use of Medium category.

For more than 50 years, the New York Festivals has been a diverse advertising awards competition, with entries and jury members now representing more than 70 countries. The shortlist, evaluated by the Grand Jury, is judged by the Executive Jury, an exclusive group of prominent worldwide chief creative officers from the world's leading advertising agencies. This elite group comes together for five days of live judging to determine all winners.

About Draftfcb
With an equal focus on creativity and accountability, Draftfcb is committed to producing brilliant ideas that change consumer behavior. As a global, fully integrated marketing communications agency operating against a single P&L, Draftfcb provides clients with highly collaborative, channel-neutral thinking that delivers engagement and, most importantly, action. With nearly 140 years of combined expertise, Draftfcb has roots in both consumer advertising and behavioral, data-driven direct marketing. The Draftfcb network spans 150 offices in 90 countries and employs nearly 9,000 people. The agency is part of the Interpublic Group of Companies (NYSE:IPG). For more information, visit www.draftfcb.com.