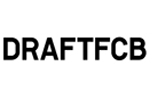 Draftfcb Worldwide,
New York
Follow
Update
100 West 33rd Street
New York, New York 10001-2900
United States
Phone: 212 885-3000
Fax: 212 885-3300
The Golden Trailer Awards and Draftfcb New York Shine in New PartnershipThe Pro-Bono Alliance Names Draftfcb as Agency of Record
April 30, 2013
Many say the best part of going to the movies is watching the trailers. Draftfcb New York echoes that sentiment and is pleased to now be partnering with The Golden Trailer Awards as the organization's pro-bono agency of record. This is the award show's first agency partnership.
Established in 1999, The Golden Trailer Awards is an internationally recognized show devoted to celebrating feature film previews. Headquartered in New York, the show applauds the craftsmanship and allure of these potent mini-epics in a fast-paced, 90-minute ceremony with categories ranging from "Best Drama" to the "Golden Fleece." Previous jury panelists include prominent and award-winning directors, producers and celebrities including Jon Favreau, Joss Whedon, Quentin Tarantino, David Geffin, and Paula Wagner.
Draftfcb New York has come on board just in time to handle all creative promotional responsibility for The 14th Annual Golden Trailer Awards to be held on May 3 in Los Angeles. This includes creating print, digital, and 10 to 15-second "show bumpers" (the introductory video clip) for each of the 16 award categories presented during the live event. This year is also noteworthy with the kick-off of a new award called the "Top of the Box Office Award," recognizing the tremendous role that effective marketing plays in driving box office revenue.
"Our staff is very excited about this account; everyone loves movies," said Javier Campopiano, chief creative officer of Draftfcb New York. "It's a fun opportunity to flex our creative muscle in the entertainment sector."
"We are super thrilled to partner with Draftfcb," said Evelyn Brady-Watters, founder and executive director of The Golden Trailer Awards. "My background is commercial production and I've worked as a producer for many ad agencies over the last fifteen years and I've never seen an agency so dialed as Draftfcb. It's a tremendous shot in the arm for our team and we are very much looking forward to a close collaboration which will further promote the work we do in recognizing and celebrating the pure joy that trailers bring to movie-fans."
About Draftfcb
With an equal focus on creativity and accountability, Draftfcb is committed to producing brilliant ideas that change consumer behavior. As a global, fully integrated marketing communications agency operating against a single P&L, Draftfcb provides clients with highly collaborative, channel-neutral thinking that delivers engagement and, most importantly, action. With nearly 140 years of combined expertise, Draftfcb has roots in both consumer advertising and behavioral, data-driven direct marketing. The agency's corporate leadership team includes Howard Draft, executive chairman; Laurence Boschetto, CEO and president; Jonathan Harries, vice chairman emeritus & executive advisor, global creative; and Neil Miller, chief operating officer. The Draftfcb network spans 150 offices in 90 countries and employs nearly 9,000 people. The agency is part of the Interpublic Group of Companies (NYSE:IPG). For more information, visit
www.draftfcb.com
.