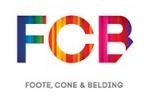 FCB Worldwide,
New York
Follow
Update
100 West 33rd Street
New York, New York 10001-2900
United States
Phone: 212 885-3000
Fax: 212 885-3300
Dan Bradshaw Joins Draftfcb London as Digital Design Director
April 29, 2013
Draftfcb has announced today the appointment of Dan Bradshaw as Digital Design Director of the London agency, effective immediately.
"Dan has a true passion for design and a history of working on beautifully crafted integrated campaigns, making him the perfect new addition to our team," said Steven Bennett-Day, digital creative director at Draftfcb London.
Bradshaw joins the agency from LBi, where he helped design the award winning Virgin Atlantic website and worked on campaigns for Barclays, BT, along with Microsoft on the recent crowdsourcing adventure "Brandon Generator". Prior to that, Bradshaw worked at Skive, on a variety of projects for clients including Nestle, Reebok, Walkers, Samsung, MSN, Lexus and the British Army.
"I love having, and developing ideas that create engaging and memorable interactive experiences," said Bradshaw. "That's why I'm thrilled to be part of a team who believe in the power of great storytelling to create truly integrated campaigns."
Bradshaw's work, which has been recognised locally and internationally at BIMA, IAB Creative Showcase, D&AD, New York Festivals, London International Awards, the Webbys and the Lovies, can be seen
here
.
About Draftfcb
With an equal focus on creativity and accountability, Draftfcb is committed to producing brilliant ideas that change consumer behavior. As a global, fully integrated marketing communications agency operating against a single P&L, Draftfcb provides clients with highly collaborative, channel-neutral thinking that delivers engagement and, most importantly, action. With nearly 140 years of combined expertise, Draftfcb has roots in both consumer advertising and behavioral, data-driven direct marketing. The Draftfcb network spans 150 offices in 90 countries and employs nearly 9,000 people. The agency is part of the Interpublic Group of Companies (NYSE:IPG). For more information, visit
www.draftfcb.com
.