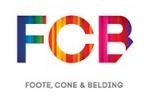 FCB Worldwide,
New York
Follow
Update
100 West 33rd Street
New York, New York 10001-2900
United States
Phone: 212 885-3000
Fax: 212 885-3300
NIVEA Men Unlocks Men's Everyday Potential
April 28, 2013
• New Positioning of NIVEA MEN
• Call to action with new claim "It starts with you"
• Nr.1 in Male Face Care with 90 years of experience
Recognizing that men's faces go through a lot daily, NIVEA Men, the global leader of the male facial care category, has launched a new range of products designed to unlock men's everyday potential starting with the "Active Age Range". With 90 years of experience, the pioneering grooming brand knows that NIVEA Men is the right choice to give back to stressed skin.
"NIVEA Men's view is that every man has potential, but not everyone can tap into it fully," said Ralph Gusko, Executive Board Member for Brands at Beiersdorf. "Our products help consumers to feel good in their skin and achievements are more easily attainable when you have this feeling."
To support the launch, NIVEA together with Draftfcb have developed a new global campaign with a strong call to action, "It starts with you." Using a more emotional approach towards men that embodies the brand essence of easy-going masculinity, the campaign taps into the insight that when men feel positive, they see it reflected in the mirror as well as in their attitude: NIVEA Active Age Range is a quick, simple and effective path to feeling good in your skin.
"'It starts with you' is more than just a claim," added Tobias Collée Global Marketing Director NIVEA MEN. "It actually gives men the kick they sometimes need to get going. It has a very straightforward, positive and aspirational attitude as well as acting as an invitation to brand activation."
The global roll out of the new campaign will run from April on across multiple channels starting in Germany and UK this month.
Creative CreditsCampaign NIVEA MEN 'Originals' Beiersdorf:
Tobias Collée, Global Marketing Director NIVEA MEN
Draftfcb:
Executive Creative Director: Dirk Haeusermann
Art Director: Kristian Joshi
Global Planning Directors: Gabrielle Bell
Global Account Director: Thorsten Stoll
About Beiersdorf AG
Cosmetics company Beiersdorf AG is based in Hamburg, Germany, and has around 17,000 employees worldwide. Its sales in 2011 amounted to €5.633 billion, the company has been listed on the DAX since December 2008, and has the world's largest skin care brand, NIVEA*. Other names in its successful international brand portfolio include Eucerin, La Prairie, Labello, 8x4, and Hansaplast/Elastoplast. Subsidiary tesa SE is one of the world's leading producers of self-adhesive products and system solutions for industry, craft businesses, and consumers. Beiersdorf has 130 years of skin care experience and is known for its innovative and high-quality products.
*Source: Euromonitor International Limited, per umbrella brand name classification in retail value terms 2011.
About Draftfcb
With an equal focus on creativity and accountability, Draftfcb is committed to producing brilliant ideas that change consumer behavior. As a global, fully integrated marketing communications agency operating against a single P&L, Draftfcb provides clients with highly collaborative, channel-neutral thinking that delivers engagement and, most importantly, action. With nearly 140 years of combined expertise, Draftfcb has roots in both consumer advertising and behavioral, data-driven direct marketing. The Draftfcb network spans 150 offices in 90 countries and employs nearly 9,000 people. The agency is part of the Interpublic Group of Companies (NYSE:IPG). For more information, visit
www.draftfcb.com
.
Contacts:
Beiersdorf AG
Cora von Meysenbug
Director Corporate Communications
Phone: +49 (40) 4909 5114
Email:
cora.vonmeysenbug@beiersdorf.com
Draftfcb
Stephen Martincic
+44 793 961 9070
Email:
Stephen.Martincic@draftfcb.com