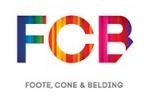 FCB Worldwide,
New York
Follow
Update
100 West 33rd Street
New York, New York 10001-2900
United States
Phone: 212 885-3000
Fax: 212 885-3300
Eighteen case studies on long list for Warc Prize for Innovation 2013
May 12, 2013
• Jury chaired by Howard Draft, executive chairman of Draftfcb
• Case histories from 16 countries in running for $10,000 global Prize
• Additional trophy to be awarded to most popular Prize entry
Burnett, Naked Communications, Starcom MediaVest and Mindshare all have two entries each on the list.
The full list, detailed over the page, features examples of effective innovation from 16 countries and nine sectors. It pits work from big brands such as McDonald's, Honda, K-mart, Mars, and OREO against lesser known organisations.
The judges have praised the innovative thinking and insights displayed by this year's entries. The panel of 15 judges, chaired by Howard Draft, executive chairman of Draftfcb, will award the Prize to the case study that best demonstrates effective innovation based on a written submission scored according to five criteria.* The winner will be announced in June.
Subscribers to Warc, the global marketing knowledge service, can read the long-listed case studies in full now on
www.warc.com/prize
. If you are not a subscriber but would like to request a trial, please visit
www.warc.com/trial
.
This year for the first time, Warc is also awarding a Popular Vote trophy for the entry that attains the highest combination of "likes" of its video on our free
Warc Prize Vimeo page
and downloads of its case study on warc.com.
Terms and Conditions
apply.
*Criteria: Warc Prize for Innovation entries are scored for five different criteria: Campaign Background (15% of total marks); Insight & Strategy (20%); Implementation (15%); Performance against Objectives (20%); Innovation & Lessons Learned (30%).
2013 Warc Prize for Innovation Long List (A-Z by brand)
Warc subscribers can read the shortlisted cases at www.warc.com/prize.
Brand:
Art Series Hotels
Title:
Overstay Checkout (Australia)
Agency:
Naked Communications Melbourne
Authors:
Adam Ferrier, Lach Hall
Brand:
ecostore
Title:
Little Treasures (New Zealand)
Agency:
O P E N
Authors:
Matt O'Sullivan, Sophie Joiner
Brand:
Fundación Paralife
Title:
I will work for free (Mexico)
Agency:
Publicis Mexico
Authors:
Jessica Appellaniz, Luis Enriquez "Madruga", Alan Alexis Ramírez, Magdalena Barceló, Hector Fernández, Iván Santos Muñoz, Selene Cuadra, Paulina Arce, Ileana Lopez
Brand:
Group of Humanitarian Attention to the Demobilised
Title:
Rivers of Light (Colombia)
Agency:
Lowe-SSP3
Authors:
Juan Pablo Garcia, Marialejandra Urbina, Mihir Warty, Jane Dorsett
Brand:
Honda Civic
Title:
Psicodriving (Spain)
Agencies:
Starcom MediaVest, Spotless
Authors:
Roser Puig, Elena Gris, Daniel Martínez Tessier
Brand:
IKEA
Title:
Human Coupons (Canada)
Agency:
Leo Burnett
Authors:
Heather Morrison
Brand:
Kissan Ketchup (Hindustan Unilever)
Title:
When tomato ketchup grew tomato farmers (India)
Agency:
Mindshare India
Authors:
Anagha Ingle, Baljeet Singh
Brand:
Kmart
Title:
Can you feel it? (Australia)
Agencies:
Forethought Research and BWM
Authors:
Ken Roberts
Brand:
Lifebuoy
Title:
Saving lives with soap (India, Indonesia, Kenya and Nigeria)
Agency:
Lowe Lintas and Partners
Authors:
Saji Abraham and Pooja Rawat
Brand:
McDonald's
Title:
Coin Hunters (Denmark)
Agencies:
DDB Copenhagen, OMD Denmark
Authors:
Pernille Zillmer, Kim Jørgensen, Pia Niemann
Brand:
McDonald's
Title:
Real Time Olympics (China)
Agencies:
Nim Digital
Authors:
Jamo Woo, Icy Han
Brand:
Metro Trains Melbourne
Title:
Dumb ways to die (Australia)
Agency:
McCann Australia
Author:
Karl Bates, Adrian Mills, Danish Chan
Brand:
OREO
Title:
Daily Twist (United States)
Agencies:
Draftfcb
Authors:
Auro Trini-Castelli, John Campbell, Susan Polachek
Brand:
Peres Center for Peace
Title:
Blood Relations (Israel)
Agencies:
BBR Saatchi & Saatchi
Author:
Rachel Friend
Brand:
Slice (Pepsi)
Title:
Seduction in a bottle (India)
Agency:
Mindshare India, JWT India
Author:
Shefali Mahadevia
Brand:
Tiger Beer
Title:
Blue Christmas (Vietnam)
Agency:
Leo Burnett Vietnam/M&T
Author:
Abhijit Das
Brand:
TWIX
Title:
Pause (Australia)
Agency:
Starcom MediaVest
Authors:
Peter Toone, Hayley Clarke, Patrick Whitnall
Brand:
V/Line
Title:
Guilt Trips (Australia)
Agency:
McCann Australia
Author:
Karl Bates, Adrian Mills, Danish ChanAbout the Warc Prize for Innovation:
The Warc Prize for Innovation 2013 was free to enter and open to case studies featuring any country, sector, type of communications, discipline and budget range. It is one of several prizes created by Warc to reward and showcase new thinking and effective strategy across communications industries. To find out more, visit our
Warc Prizes
page.
About Warc:
Warc is a global provider of marketing knowledge. Warc's premium online service, warc.com, includes more than 7,000 case studies and a huge resource of articles on new thinking and best practice across all areas of marketing. It has subscribers in over 100 countries and is a unique resource relied upon by agencies, brand owners and media groups. To sample some of this content, request a trial at
www.warc.com/trial
.