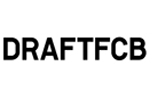 Draftfcb Worldwide,
New York
Follow
Update
100 West 33rd Street
New York, New York 10001-2900
United States
Phone: 212 885-3000
Fax: 212 885-3300
Draftfcb China Youngsters Take Home Silver from the AMEs
May 13, 2013
May14, 2013: Two young stars from Draftfcb Greater China have won a Silver award for outstanding strategy in a competition held at the 2013 Festival of Asian Marketing Effectiveness.
The executives from Draftfcb Shanghai competed against other young planners from across Asia in the Young Fame Competition that is run in conjunction with the Festival and designed to be a showcase of young planning talent in the region.
Tommy Tai, associate planning director and Janice Kok, a digital planner, pitted their skills against other executives and were given 10 hours to develop a strategy and presentation that would significantly benefit a nominated charity, the World Food Program. Competitors were briefed at 10am and expected to submit their proposals by 8pm the same day.
Each submission was required to cover a summary of the problem; insights into solving key issues; key campaign messages; recommendations on the communications mix and why these channels were chosen.
Draftfcb's award at Young Fame was the highest won by a Greater China agency.
Draftfcb Greater China Head of Strategic Planning, Tiffana Pun, said one of the agency's primary focuses was on moving to develop a talent ego in the agency, where young people are challenged to think of highly creative and unusual solutions to client challenges. "I joined the agency two years ago because of its focus on strategic planning as a core value and it is great to see two of our young stars being rewarded with such a high profile award" said Pun.
Chairman and CEO of Draftfcb Greater China, Pully Chau, said that in previous years there has been criticism of China agencies for a perceived lack of strategic thinking. "Our young people winning this award is a clear demonstration that Draftfcb's focus on strategy talent means the agency is in the A League not just in China, but across the region," said Chau. "I hope our young people continue to be recognised in this way."
About Draftfcb
With an equal focus on creativity and accountability, Draftfcb is committed to producing brilliant ideas that change consumer behaviour. As a global, fully integrated marketing communications agency operating against a single P&L, Draftfcb provides clients with highly collaborative, channel-neutral thinking that delivers engagement and, most importantly, action. With nearly 140 years of combined expertise, Draftfcb has roots in both consumer advertising and behavioral, data-driven direct marketing. The Draftfcb network spans 150 offices in 90 countries and employs nearly 9,000 people. The agency is part of the Interpublic Group of Companies (NYSE:IPG). For more information, visit
www.draftfcb.com
.