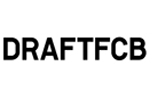 Draftfcb Worldwide,
New York
Follow
Update
100 West 33rd Street
New York, New York 10001-2900
United States
Phone: 212 885-3000
Fax: 212 885-3300
Draftfcb Snares 14 Clio Awards at 54th Annual ShowMayo Draftfcb in Peru Wins Two Additional Trophies for UTEC Water-Generating Billboard
May 15, 2013
Eight Draftfcb offices across its global network enjoyed a stellar performance at the 54th Annual Clio Awards held last night at the Museum of Natural History in Manhattan.
Shops in Argentina, Chile, Germany, New Zealand, Peru, South Africa, Switzerland and New York won five Gold, one Silver and eight Bronze awards. And, at the ceremony, Adweekeditorial director James Cooper joined HP executive David Murphy in presenting Mayo Draftfcb Chief Creative Officer Humberto Polar with the first Project Isaac Gravity Award for the shop's creation of a billboard that turns desert air into potable drinking water in Peru. The effort for the National University of Engineering and Technology (UTEC) had earlier been named one of 29 Project Isaac winners. Project Isaac honors inventive work in media, marketing, advertising and technology.
"Mayo Draftfcb's campaign not only successfully created buzz ahead of UTEC's student application period, but it also demonstrated to future innovators how creativity can also contribute to a greater cause," said Cooper. "Their outstanding work distinguishes the agency as an early champion of the inventor culture and deserves Project Isaac's top honor."
Argentina earned a Gold Clio for ZonaJobs' "Grandma" in the film-online category. New Zealand won two Gold Clio awards for SPCA/MINI for "Driving Dogs" in the content & contact and PR – cause-related categories. Peru won Gold for UTEC's "Potable Water Generator" in the content and contact category while New York won Gold for Oreo "Daily Twist" in the digital/mobile - social media category. Oreo "Daily Twist" also took a Silver Clio in the content and contact category and two Bronze Clio awards, one in digital/mobile technique - graphic design, and one in engagement. "Driving Dogs" also won a Bronze Clio in the direct category. New Zealand also won a Bronze Clio for Prime TV's "Secret Diary of a Call Girl" in the innovative media category. Other agencies to medal: Chile won Bronze for Guia Eco's "5 seconds" in the digital/mobile category; Germany won Bronze for Philharmoniker Hamburg "When Music Flows into Pictures" in design; South Africa won Bronze for Engen "Fire Blanket Calendar" in out-of-home/ambient; and Switzerland won Bronze for Theater Rigiblick's "The Annual Business Report" in PR/special events.
About Draftfcb
With an equal focus on creativity and accountability, Draftfcb is committed to producing brilliant ideas that change consumer behavior. As a global, fully integrated marketing communications agency operating against a single P&L, Draftfcb provides clients with highly collaborative, channel-neutral thinking that delivers engagement and, most importantly, action. With nearly 140 years of combined expertise, Draftfcb has roots in both consumer advertising and behavioral, data-driven direct marketing. The Draftfcb network spans 150 offices in 90 countries and employs nearly 9,000 people. The agency is part of the Interpublic Group of Companies (NYSE:IPG). For more information, visit
www.draftfcb.com.