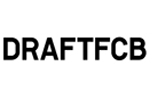 Draftfcb Worldwide,
New York
Follow
Update
100 West 33rd Street
New York, New York 10001-2900
United States
Phone: 212 885-3000
Fax: 212 885-3300
Draftfcb Scores Big at the 2013 North American Effie AwardsNetwork Snares Five Awards; Three for Oreo Daily Twist
May 22, 2013
Earning creative awards and accolades for campaigns matters. Winning Effie Awards that recognize great creative campaigns that deliver for clients really matters.
At the 45th Annual North American Effie Awards Gala held last night at Cipriani in Manhattan, Draftfcb took two golds, two silvers and one bronze for five campaigns created by agencies in New York and Toronto. Oreo's industry-applauded "Daily Twist" campaign that captured trending news stories through the lens of the world's favorite cookie for 100 consecutive days won three of the five awards.
Campaigns for PFLAG (Toronto) and SPIRIVA (Draftfcb Healthcare, New York) took the other two.
"Being recognized for killer creative work that delivers in spades for brands is the ultimate prize," said Debra Coughlin, Draftfcb global chief marketing officer. "The Effie Awards prove the return-on-investment clients gain by committing to great ideas that resonate with consumers. Effective creative campaigns are certainly the measure of success."
The winning campaigns include:
• Gold award: Toronto, Canada for PFLAG "Stories to Inspire Change" (LGBT Community)
• Gold award: New York for OREO "Daily Twist" (Snacks/Desserts/Confections)
• Silver award: New York for OREO "Daily Twist" (Small Budgets - Products)
• Silver award: Draftfcb Healthcare for SPIRIVA "Elephant" (Consumer DTC)
• Bronze award: New York for OREO "Daily Twist" (Brand Experience)
With more than 40 national and regional programs worldwide, the Effie Awards recognize the most effective marketing communications ideas globally. Founded in 1968 by the American Marketing Association, New York Chapter, its mission is to educate and share its definition of effectiveness by spotlighting great ideas and encouraging thoughtful dialogue about the ever-changing world of marketing communications. Here's a complete list of
winners
.
In April, Draftfcb Chicago won a Silver Shopper Marketing Effie at the Path to Purchase Institute's 2013 Shopper Marketing Summit for its MilkPEP "Latte Love" campaign.
About Draftfcb
With an equal focus on creativity and accountability, Draftfcb is committed to producing brilliant ideas that change consumer behavior. As a global, fully integrated marketing communications agency operating against a single P&L, Draftfcb provides clients with highly collaborative, channel-neutral thinking that delivers engagement and, most importantly, action. With nearly 140 years of combined expertise, Draftfcb has roots in both consumer advertising and behavioral, data-driven direct marketing. The Draftfcb network spans 151 offices in 90 countries and employs nearly 8,600 people. The agency is part of the Interpublic Group of Companies (NYSE:IPG). For more information, visit
www.draftfcb.com