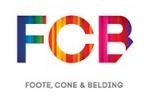 FCB Worldwide,
New York
Follow
Update
100 West 33rd Street
New York, New York 10001-2900
United States
Phone: 212 885-3000
Fax: 212 885-3300
Draftfcb Deepens Strategic Capabilities: Adds Ken Beatty as EVP, Chief Strategic Analytics Officer
June 2, 2013
Bringing to the table a unique West Point mathematics background along with an impressive track record in developing robust data-driven marketing programs, Ken Beatty has joined Draftfcb in a multi-faceted role as EVP, chief strategic analytics officer. He will report to Debra Coughlin, global chief marketing officer and general manager of Draftfcb New York, and Dana Maiman, CEO & president of Draftfcb Healthcare, serving both agencies as well as the Draftfcb global network.
As a key member of the agency's Global Capabilities leadership team, Beatty will add significant experience and know-how to the firm's strategic and analytic disciplines, further defining the role of data and analytics across Draftfcb's worldwide network. His expertise will impact multiple disciplines including strategy, planning, media, digital, CRM, and customer engagement. Working as a partner with creative and strategic planning teams, Ken will ensure metrics-driven programs across all brands.
A former U.S. Army Lieutenant Colonel who taught mathematics at West Point, Beatty brings deep understanding and creative data thinking to his new post. He joins the agency from G2 where he served for the last five years as executive director of data and analytics. Earlier in his career he served as chief analytics officer at Doner Advertising, Rapp Collins, and vice president of strategic targeting at Fleetboston Credit Cards. Clients/brands he has handled include Aetna, Best Buy, Bristol-Myers Squibb, Campbell's Soup, Fidelity, Hertz, Kraft, Liberty Mutual Insurance, Lilly, Mazda, and Mercedes, to name a few.
"Ken's deep technical-driven background is complemented with his creative and communication finesse," said Debra Coughlin. "His ability to translate powerful analytics into a means of solving marketing challenges impressed us all and we are simply thrilled to have him on board."
"Ken's application of the 'universal truth of analytics' regardless of industry vertical is unparalleled," said Dana Maiman. "He is able to take the theoretical and make it truly actionable resulting in tangible results for clients. After a very robust search, I'm extremely confident that Ken is the leader to take our analytics to an even higher level."
"Draftfcb has a legacy of integrating strong and meaningful analytics into strategy, something I know to be imperative in unlocking the intelligence behind data," said Beatty. "So I am wonderfully pleased to join the agency and help Draftfcb's clients be even smarter when it comes to using data to build their brands."
Beatty holds a B.S. in Mathematics from the U.S. Military Academy, West Point, and a double M.S. in Applied Mathematics and Operations Research and Statistics from Rensselaer Polytechnic Institute. He is a confirmed student of history and a supporter of veterans' affairs initiatives.
About Draftfcb
With an equal focus on creativity and accountability, Draftfcb is committed to producing brilliant ideas that change consumer behavior. As a global, fully integrated marketing communications agency operating against a single P&L, Draftfcb provides clients with highly collaborative, channel-neutral thinking that delivers engagement and, most importantly, action. With nearly 140 years of combined expertise, Draftfcb has roots in both consumer advertising and behavioral, data-driven direct marketing. The Draftfcb network spans 151 offices in 90 countries and employs nearly 8,600 people. The agency is part of the Interpublic Group of Companies (NYSE:IPG). For more information, visit
www.draftfcb.com
.