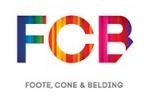 FCB Worldwide,
New York
Follow
Update
100 West 33rd Street
New York, New York 10001-2900
United States
Phone: 212 885-3000
Fax: 212 885-3300
Draftfcb and Beiersdorf Launch New Creative Platform for Nivea Men in Greater China
May 30, 2013
May 31, 2013: Draftfcb and global skin care company Beiersdorf are launching a national advertising campaign in Greater China for Nivea Men that stars famous actor Ke Zhen Dong and introduces a new creative style for the brand.
The new television and online campaign brings Nivea Men's' new global creative platform, launched at the beginning of this year, to China for the first time. The campaign is targeted at men in their 20s and invites them to break with convention and challenge their daily skin care issues.
Draftfcb's new television commercial is an action-packed and humorous narrative that uses wacky camera shots to depict the various "oil challenges" that Ke Zhen Dong's character faces each day. The TVC includes imagery of french fries and oily body builders to demonstrate the "in your face" nature of oily skin problems that exist for the target market.
"The idea behind this campaign recognises that young men frequently experience oily skin problems and that using Nivea Men gives them greater confidence in their daily lives," said Andy Chan, executive creative director, Beauty Care, Draftfcb China. "This is a quite distinct approach in this category for China and we have starred Ke Zhen Dong to help drive impact of the campaign."
Ke Zhen Dong is a winner of Best New Actor at the Golden Horse Awards and is also well known for his starring role in the film You Are the Apple of My Eye, where he made his debut.
The new campaign will run into July.
See the TVC
here
.
About Draftfcb
With an equal focus on creativity and accountability, Draftfcb is committed to producing brilliant ideas that change consumer behavior. As a global, fully integrated marketing communications agency operating against a single P&L, Draftfcb provides clients with highly collaborative, channel-neutral thinking that delivers engagement and, most importantly, action. With nearly 140 years of combined expertise, Draftfcb has roots in both consumer advertising and behavioral, data-driven direct marketing. The Draftfcb network spans 151 offices in 90 countries and employs nearly 8,600 people. The agency is part of the Interpublic Group of Companies (NYSE:IPG). For more information, visit
www.draftfcb.com
.