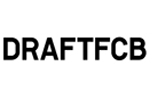 Draftfcb Worldwide,
New York
Follow
Update
100 West 33rd Street
New York, New York 10001-2900
United States
Phone: 212 885-3000
Fax: 212 885-3300
Draftfcb New York Continues to Boost Bench Strength As
June 2, 2013
Effective this week, Kevin Jordan is injecting Draftfcb New York with increased creative energy as group creative director, focusing on the agency's Amtrak, Nivea and FDA (anti-smoking) accounts.
Jordan gets creative credit on a number of high-profile creative campaigns during his tenure as a Mad Man. Most recently creative director at BBDO New York, Jordan helped illustrate futuristic wonder for GE's "Journey" campaign starring some of pop culture's most beloved science fiction robots. As an associate creative director at Euro RSCG, he piqued consumer desire to be like "The Most Interesting Man in the World" for Dos Equis. Jordan has also worked for Cutwater, Goodby, Silverstein & Partners and Ogilvy & Mather on well-known brands such as Adobe, Arnette Sunglasses, HP and Jeep. Interestingly, Jordan started his career at Foote, Cone & Belding in San Francisco working on Levi's.
Jordan will work closely with Javier Campopiano, chief creative officer, Draftfcb New York, to create campaigns that deliver for clients and get consumer attention.
"I was sold by Javi's enthusiasm and desire to shake things up at Draftfcb New York," said Jordan. "I'm up for the challenge of working with him to build something exciting that keeps people talking about our great work."
Added Campopiano: "Kevin's enthusiasm in contagious. He certainly is going to be a formidable ingredient in our creative mix."
About Draftfcb
With an equal focus on creativity and accountability, Draftfcb is committed to producing brilliant ideas that change consumer behavior. As a global, fully integrated marketing communications agency operating against a single P&L, Draftfcb provides clients with highly collaborative, channel-neutral thinking that delivers engagement and, most importantly, action. With nearly 140 years of combined expertise, Draftfcb has roots in both consumer advertising and behavioral, data-driven direct marketing. The Draftfcb network spans 151 offices in 90 countries and employs nearly 8,600 people. The agency is part of the Interpublic Group of Companies (NYSE:IPG). For more information, visit
www.draftfcb.com
.