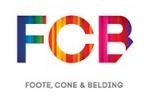 FCB Worldwide,
New York
Follow
Update
100 West 33rd Street
New York, New York 10001-2900
United States
Phone: 212 885-3000
Fax: 212 885-3300
New Masters Course in Branded Content and Transmedia Communication Launched by University Carlos III De Madrid in Collaboration with Draftfcb
June 4, 2013
Carlos III University and advertising agency Draftfcb Spain have developed a new international qualification in areas of communications, advertising and marketing, especially digital marketing to meet current demand.
The relevance of branded content and content marketing in the context of the advertising 2.0 environment, requires specialised training for creative professionals. Therefore, the Masters in Branded Content and Communication Transmedia UC3M - DRAFTFCB offers rigorous training and content marketing for communication across all media, both traditional and non-traditional, to create emotional connection with the audience.
Those who make it onto the program are offered the possibility of practical experience in major national and international advertising agencies, media companies and content marketing leaders.
The course spans one academic year and its directors are Nora Lado, professor of marketing at the University Carlos III of Madrid and Pablo Muñoz, managing director of Draftfcb Spain.
More information at:
http://www.uc3m.es/portal/page/portal/postgrado_mast_doct/masters/Master_Branded_Content_Comunicacion_Transmedia
About Draftfcb
With an equal focus on creativity and accountability, Draftfcb is committed to producing brilliant ideas that change consumer behavior. As a global, fully integrated marketing communications agency operating against a single P&L, Draftfcb provides clients with highly collaborative, channel-neutral thinking that delivers engagement and, most importantly, action. With nearly 140 years of combined expertise, Draftfcb has roots in both consumer advertising and behavioral, data-driven direct marketing. The Draftfcb network spans 151 offices in 90 countries and employs nearly 8,600 people. The agency is part of the Interpublic Group of Companies (NYSE:IPG). For more information, visit
www.draftfcb.com
.