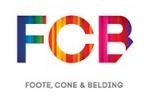 FCB Worldwide,
New York
Follow
Update
100 West 33rd Street
New York, New York 10001-2900
United States
Phone: 212 885-3000
Fax: 212 885-3300
SPORTED'S FIRST MAJOR AD CAMPAIGN WILL TURN HEADS ACROSS LONDON
June 4, 2013
The Sported Foundation has launched its first significant advertising campaign across London on Monday 3rd June. 'Cross the Line', an award-winning and thought-provoking print ad, demonstrates the power of sport in tackling some of society's most challenging social problems.
The campaign, which runs for two weeks on the cross tracks of London Underground stations, is part of a significant investment by Deutsche Bank, sported.'s first corporate partner. Deutsche Bank and Sported are developing a new education-based initiative called Sporteducate which combines sport with education. Sporteducate will provide tailor-made education programmes for community sports centres to help 11 to 18-year-olds improve their focus and performance at school and beyond.
The Sporteducate programme launches in London next month and is then expected to be rolled out across the UK following the completion of a four year programme in the capital.
The 'Cross the Line' ad was created by Draftfcb following the London riots, earning free media space in select national newspapers. The powerful copy has won a series of awards, including the 2011 MAA Award for Best Writing. The ad illustrated how easy it is to 'cross the line', and demonstrates how sport can be used as a force to encourage young people back onto the right path.
sported.'s founder and Deputy Chairman of London 2012, Sir Keith Mills, said of the ad: "Every now and then a truly brilliant ad is created and this is one of them. We are delighted to be in a position to make this work public, which is all due to the support of Deutsche Bank, an organisation which shares our vision to improve the lives of young people through sport."
Deutsche Bank UK Chief Executive Colin Grassie added: "When we announced our partnership with sported., we were determined to assist this leading sport for development Foundation to bring its great work to the public's attention. We hope that everyone who commutes through London over the next couple of weeks will be as moved by this campaign as we have been."
The 'Cross the Line' ad will be seen on the following stations until June 17 Bank, Bond Street, Covent Garden, Green Park, Holborn, Knightsbridge, Leicester Square, Oxford Circus, Piccadilly Circus, Tottenham Coirt Road, Angel, Chancery Lane, Charing Cross, Euston, Kings Cross St Pancras, Liverpool Street, London Bridge, Moorgate, Marylebone, Old Street, Paddington, St Pauls, Tower Hill, Victoria and Waterloo.
For more information on sported., the UK's leading Sport for Development foundation, visit
sported.org.uk
.
Creative Credits
Client: sported
Agency: Draftfcb London
Copywriter: James White
Art Director: Henry Finnegan
Photography: Kulbir Thandi
For further information, please contact:
Tracie Simpson, Head of PR & Marketing, sported.
T: 0207 389 1909
M: 07775 601 956
E: t.simpson@sported.org.uk
Katy Burns, emea corporate communications associate, Draftfcb
M: +44 (0)78 7550 6270
E: katy.burns@draftfcb.com
Notes to EditorsAbout sported
sported is a foundation established in 2008 by Sir Keith Mills, Chief Executive of the London 2012 bid team, Deputy Chairman of the London Organising Committee of the Olympic and Paralympic Games (LOCOG) and creator of Nectar and Air Miles.
sported's mission is to: Develop and secure a future for the Sport for Development sector. We are working to achieve this by: Providing funding and support to ensure greater professionalism of the sector; By championing sport for development work and providing a voice for the sector; By proving that sport works, through the development of robust monitoring and evaluation.
sported is active across the UK - services are delivered through a team of Regional and Country Managers and a substantial network of skilled volunteers. In addition to helping individual organisations, the foundation is committed to demonstrating the social benefits of Sport for Development and therefore increasing investment into the sector.
sported has 253 member organisations and some amazing projects in London with at least one member in each Borough. sported has awarded over £322,000 in funding to London projects in the past couple of years . These organisations do great things and are rich in stories of young people who are getting off the streets and away from various social issues including crime. Sport is giving them a second chance in life. sported's funding is making this happen e.g. Haringay Boxing Club in North London, started and run by all ex-gang members and now influencing kids in gangs and seeing results.
The Foundation has been awarded the Inspire Mark by LOCOG.
www.sported.org.uk
- Registered charity number: 1123313
About Draftfcb
With an equal focus on creativity and accountability, Draftfcb is committed to producing brilliant ideas that change consumer behavior. As a global, fully integrated marketing communications agency operating against a single P&L, Draftfcb provides clients with highly collaborative, channel-neutral thinking that delivers engagement and, most importantly, action. With nearly 140 years of combined expertise, Draftfcb has roots in both consumer advertising and behavioral, data-driven direct marketing. The Draftfcb network spans 151 offices in 90 countries and employs nearly 8,600 people. The agency is part of the Interpublic Group of Companies (NYSE:IPG). For more information, visit
www.draftfcb.com
.