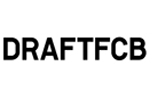 Draftfcb Worldwide,
New York
Follow
Update
100 West 33rd Street
New York, New York 10001-2900
United States
Phone: 212 885-3000
Fax: 212 885-3300
OREO "Daily Twist" Campaign Wins Big at 2013 National ADDY AwardsDraftfcb Snares "Best in Show," People's Choice and Three Golds for Oreo; One for Taco Bell
June 9, 2013
Draftfcb again took top honors at one of the industry's most prestigious creative award shows, securing "Best In Show," the People's Choice and four Golds at the 2013 ADDY Awards held on Saturday, June 8 at the Arizona Baltimore Resort & Spa.
The most coveted "Best in Show" prize went to Draftfcb New York for its Oreo "Daily Twist" campaign. The win came on the heels of three gold ADDY awards for multiple Oreo efforts and a gold ADDY for Draftfcb Orange County's campaign for Taco Bell called "Bringing it to Bethel."
The People's Choice win for the Oreo "Daily Twist" was selected by award show attendees who voted by text for their favorite campaign during the ceremony.
The Oreo wins at the ADDY awards provided yet another stamp of approval by esteemed award-show judges and consumers this year. The "Daily Twist" effort has so far been a winner at the 2013 Effies, CLIOs, ADC Awards, ANDYs, and D&AD awards in addition to winning the coveted Blue Facebook Studio Award.
Additionally at the ADDY Awards, the Oreo History print effort won a gold in the "Consumer or Trade Publication" category as did New York's Oreo Halloween print ad. "Daily Twist" took gold in the "Digital Advertising – Social Media" category.
Taco Bell's "Bringing it to Bethel" effort by Draftfcb Irvine won gold in the "Non-Traditional" category.
"Award-show validation for campaigns that delivered in spades for clients is an added bonus that we gratefully accept," said Debra Coughlin, global CMO of Draftfcb and managing director of New York. "Creating campaigns that resonate so deeply with consumers and boost sales is the holy grail."
The ADDY Awards represent the spirit of creative excellence by recognizing all forms of advertising from media of all types, creative by all sizes and entrants from all levels. It's considered the world's largest advertising competition with more than 50,000 entries annually and was adopted by the American Advertising Federation in 1968 as a national competition.
About Draftfcb
With an equal focus on creativity and accountability, Draftfcb is committed to producing brilliant ideas that change consumer behavior. As a global, fully integrated marketing communications agency operating against a single P&L, Draftfcb provides clients with highly collaborative, channel-neutral thinking that delivers engagement and, most importantly, action. With nearly 140 years of combined expertise, Draftfcb has roots in both consumer advertising and behavioral, data-driven direct marketing. The Draftfcb network spans 151 offices in 90 countries and employs nearly 8,600 people. The agency is part of the Interpublic Group of Companies (NYSE:IPG). For more information, visit
www.draftfcb.com
.