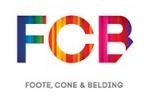 FCB Worldwide,
New York
Follow
Update
100 West 33rd Street
New York, New York 10001-2900
United States
Phone: 212 885-3000
Fax: 212 885-3300
Draftfcb Hosting Two Events at Cannt Festival
June 13, 2013
Draftfcb UK will be hosting two events for Camp Cannt at the third annual Cannt Festival, a week of events centred on the creative and advertising community. The festival runs from 17th-21st June and was created for the capital's adlanders who will not be at Cannes Lions, but have been involved in creating great work through the year.
For the first event Anna Gordon and Kate Lloyd, a creative team at Draftfcb, will co-hosting a sold-out "Speed Critique" on Monday 17th June from 6.30pm at LBi's Brick Lane offices: young hopefuls will have only three minutes to pitch a concept to eight creative directors for the chance of a full portfolio crit "date."
The second event is "Life Drawing for Copywriters." Armed with only an easel and a charcoal pencil, writers will review ten rounds of life poses lasting between one and five minutes and will be challenged to write a unique piece for each nude pose. Whether a haiku, limerick, sonnet, tweet, monologue, or short story, the best copy will be rewarded and transformed into a small publication. Creatives Colin Mitchell, Dan Shone and Sean Cullen, as well as one of the Cannt Festival's founding organisers and Draftfcb's Digital Creative Director Steven Bennett-Day, will run the event at Juno on Shoreditch High St on Tuesday 18th June from 7pm.
Bennett-Day commented, "Cannt is a great way to celebrate with the host of creatives in London who helped realise some amazing work produced this year. Draftfcb wanted to show its support for the young creatives who will be decorating La Croisette in years to come and also to have some fun by pushing writers out of their comfort zone."
For more information please visit:
www.cannt.org
About Draftfcb
With an equal focus on creativity and accountability, Draftfcb is committed to producing brilliant ideas that change consumer behavior. As a global, fully integrated marketing communications agency operating against a single P&L, Draftfcb provides clients with highly collaborative, channel-neutral thinking that delivers engagement and, most importantly, action. With nearly 140 years of combined expertise, Draftfcb has roots in both consumer advertising and behavioral, data-driven direct marketing. The Draftfcb network spans 151 offices in 90 countries and employs nearly 8,600 people. The agency is part of the Interpublic Group of Companies (NYSE:IPG). For more information, visit
www.draftfcb.com
.