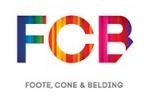 FCB Worldwide,
New York
Follow
Update
100 West 33rd Street
New York, New York 10001-2900
United States
Phone: 212 885-3000
Fax: 212 885-3300
Draftfcb Cannes Lion Forum Shines Spotlight on Context vs. Content"Drunk Tank Pink" Author Adam Alter & Matthew Willcox, Director of Draftfcb's Institute of Decision Making. Illuminate The Hidden Factors Influencing How We Think, Feel and Behav
June 19, 2013
"The mind is basically like an iceberg, and while we have access to the stuff above the surface, much of what's interesting and influencing our decisions is below the surface of conscious awareness," said Adam Alter, The New York Times best-selling author of "Drunk Tank Pink."
Speaking to an international audience of major marketers and creative minds at the 60th Annual Cannes Lions Festival of Creativity, Alter, who teaches marketing and psychology at New York University, referenced multiple studies and psychological research to illustrate some of the hidden, powerful, and unexpected forces — a color, a name, a noise — that operate behind the scenes in the decisions, choices, and behaviors of consumers and others.
"Knowing more about how the unconscious works is potentially a huge competitive advantage for marketers," said Alter's co-presenter, Matthew Willcox, Director of Draftfcb's Institute of Decision Making. "The speed with which we are learning more about just what affects our behavior is breathtaking. It truly is an emerging science. And just as being an early mover in emerging markets gave brands an edge over the last couple of decades, tapping into the unexplored geography of the mind is going to be critical to their future."
Unexpected Forces in Three Worlds
Alter illustrated unexpected forces at work in three different arenas of human activity:
1) The world around us – i.e. the physical world;
2) The world between us: i.e., the broader world between people; and
3) The world within us: i.e., within our heads, processing information in isolation.
Alter cited the title of his book, "Drunk Tank Pink," as a prime example of an unexpected force from the world around us — a simple, innocuous color — having a powerful effect on behavior. He said the title resulted from an initial study done to determine if different colors on the walls of a school could result in better behavior by the students. The best responses came from the color pink because rowdy students in pink-walled rooms became better behaved. And when the walls of a jail's drunk tank were painted pink, the most rowdy, dangerous prisoners became less aggressive. In separate experiments, men who were in a pink environment performed significantly worse in a strength test than men in a blue environment.
When talking about the world between us, Alter showed how the effect of other people changes our behavior in ways that are profound, yet often unnoticed by us as individuals. A number of experiments show how simply feeling observed changes our honesty, and cited experiments and real-life examples that had led to the decline, for example, of bicycle theft.
In terms of the world within us, Alter discussed the importance of names. Successful names are often fluent, i.e., easy to read and pronounce. Whether naming a hurricane or an IPO stock, evidence shows that the easier it is to pronounce, the better it will work, making the choice of a name an extremely important decision.
Alter showed how attachment to even our own initials hides behind certain behaviors, calling it the "named letter effect." People with more common initialed names, like those that begin with K or R, make bigger, more willing donations to funds surrounding Hurricane Katrina or Hurricane Rita. In recent years, the 'named letter effect' accounts for about $500 million in hurricane aid — a factor that has not gone unnoticed by the policy makers who name hurricanes. It is an intervention that costs nothing, yet could produce big results."
Other examples came from the road to partnership in a law firm, where people with disfluent names took longer to make partner; and studies done on initial stock offerings that saw easy-to-pronounce stock names doing better, getting a bigger pop, in their first week, than others. There are, however, some exceptions, and Willcox spoke about how in the world of luxury, making things more difficult to pronounce has a positive effect in terms of making brands feel special.
Willcox summed the session up by emphasizing while the Cannes Lions is a Festival that primarily focuses on content, the hidden power of context to change behavior and our feelings is something that we cannot ignore. What science is revealing in terms of the unconscious aspects of behavior is a precious gift for people who manage brands or create experiences for them.
About Draftfcb
With an equal focus on creativity and accountability, Draftfcb is committed to producing brilliant ideas that change consumer behavior. As a global, fully integrated marketing communications agency operating against a single P&L, Draftfcb provides clients with highly collaborative, channel-neutral thinking that delivers engagement and, most importantly, action. With nearly 140 years of combined expertise, the Draftfcb network spans 151 offices in 90 countries and employs nearly 8,600 people. The agency is part of the Interpublic Group of Companies (NYSE:IPG). For more information, visit
www.draftfcb.com
.