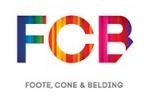 FCB Worldwide,
New York
Follow
Update
100 West 33rd Street
New York, New York 10001-2900
United States
Phone: 212 885-3000
Fax: 212 885-3300
Draftfcb appoints Salvatore Passaro as Head of Business Innovation
June 13, 2013
Draftfcb Italy has announced the appointment, effective immediately, of Salvatore Passaro as Head of Business Innovation.
Draftfcb Italy continues the renewal process by focusing on the ability to create value through the aggregation of the best skills.
"We want to subvert the typical processes of communication agencies and how they have worked in the past hundred years. Salvatore is a very talented professional. His experiences, ranging from television production to film, as well as significant expertise in the music business, will significantly strengthen our ability to create value for the brand through the design and production of content. The recent experience of the "BNL Live!" campaign is an absolute confirmation. We are constantly evolving and will not wait long to unveil new projects and initiatives," says Franco Ricchiuti, president, Draftfcb Italy.
"I am convinced that the extraordinary passion of Salvatore coupled with his undoubted talent and flair for innovation will enable us to enhance the innovation of Draftfcb Italy," adds Diego Ricchiuti, Chief Growth Officer at Draftfcb Italy.
Salvatore Passaro joins the team and will report directly to Draftcb's Franco Ricchiuti. Prior to his current position as head of Business Innovation, Salvatore Passaro was an entrepreneur in the television sector in Italy and Germany, with his company producing communication formats for Italian companies.
"I thank Franco for the opportunity and for his trust. The Live BNL was the first campaign I worked with Draftfcb and it is the result of a new thought: every company, whatever it produces, must be prepared to provide knowledge and information in a more innovative manner in all areas. We, as an agency, as a communications company, must generate a vision of growth for companies, our customers and prospects. And it is this spirit that I found in Draftfcb, a team ready to draw new routes for its customers and I'm really honoured to start working here," says Passaro.
About Draftfcb
With an equal focus on creativity and accountability, Draftfcb is committed to producing brilliant ideas that change consumer behavior. As a global, fully integrated marketing communications agency operating against a single P&L, Draftfcb provides clients with highly collaborative, channel-neutral thinking that delivers engagement and, most importantly, action. With nearly 140 years of combined expertise, Draftfcb has roots in both consumer advertising and behavioral, data-driven direct marketing. The Draftfcb network spans 151 offices in 90 countries and employs nearly 8,600 people. The agency is part of the Interpublic Group of Companies (NYSE:IPG). For more information, visit
www.draftfcb.com
.