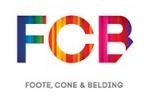 FCB Worldwide,
New York
Follow
Update
100 West 33rd Street
New York, New York 10001-2900
United States
Phone: 212 885-3000
Fax: 212 885-3300
"BNL Live! the talk show"Mainstream Communication 3.0
June 11, 2013
BNL and Draftfcb present "BNL Live! the talk show": A "branded format" event produced by the bank, designed and created by Draftfcb that totalled more than 8 million views on YouTube, 30 million impressions and 42 hours of HD video content which generated 39,000 hours of on-line playback in 3 days of transmission with 21 hours of live broadcasting.

BNL chose to present a pioneering new communication project – "BNL Live! the talk show". Concepted, designed and produced by Draftfcb, with the partnership and participation of Wired Next Fest, the Italian bank discussed innovation, research, excellence and new technologies. Through a programme of "info-tainment" and education, the event involved the public through an interactive narrative of content which took shape during the nine talk shows which were transmitted in HD streaming on the YouTube home page.

BNL Live! started as a real, live TV programme set up in a television studio inside a 60 m2 inflatable dome in the "Indro Montanelli" Gardens in the heart of Milan. For 21 hours, over three days, live meetings and discussions around the content-assets of BNL and the macro themes of current affairs were broadcast. The current national and international economic scenario, companies, start-ups, sport, cinema, new technologies in the banking sector, the family, social, university and financial education were all discussed.

Andrea Pezzi, Cristiana Capotondi and Claudia Gerini were the presenters of the talk shows during which they had the chance to meet more than 30 guests. Fabio Gallia, the Managing Director of BNL, opened the inaugural episode of BNL Live!'s three days of programming. Other speakers included Professors Michel Martone and Domenico De Masi; the businessmen Nerio Alessandri, Chairman of TechnoGym, Massimo Banzi, inventor of the Arduino platform, Giorgio Molinari, Managing Director and Country Manager of Bacardi-Martini, Giancarlo Riva, Managing Director of Ozono Italia, and Natale Scrima, patron of Tecnoline Service; the journalists Riccardo Luna, Carlo Massarini and Massimo Caputi; the great ladies tennis champion Lea Pericoli; and the actor Giancarlo Giannini. For BNL, Lucia Leva Director of Communications, Paolo Alberto De Angelis, Head of BNL Corporate Division, Marco Tarantola Head of the Retail and Private Division, and Giovanni Ajassa, Head of Service of Study, all took part, talking about the commitment of the bank to the various initiatives.

In the middle of each day, a live TV news programme produced by the information portal Affaritaliani.it and two editions of a special news report created by a team recruited on the internet through the BNL 'social' channels were shown. Four social reporters equipped with TV cameras and six presenters alternated at the table of the talk show experiencing the environment, commitment and challenge of a real television programme first hand.

Lucia Leva
Communications Director BNL, BNP Paribas group
"In the year that BNL celebrates a century of business, we chose dialogue as the central element for BNL's participation at Wired Next Fest through the creation of BNL Live!, giving shape to BNL's first talk show, a completely new event for a bank. This is an original, innovative format developed on the lines of a talk show where presenters, guests, testimonials and public discuss topics together. In this context, we were able to give space to some of the most innovative BNL projects like the 'digital bank', 'mobile payment' and being part of the social networks with BNL People and Mestiere Impresa (The Craft is Business); plenty of space was also left for current affairs topics, which have always been important to BNL, like the cinema, tennis, social work and financial education with the EduCare initiative.
Transforming a 'little exhibition stand' into a TV studio, effectively making it into a window from which the public at home can look out and follow personalities and events enabled us to create a direct and immediate relationship. We think that setting up a relationship with people and opening up to discussion are the basis for building better relations, particularly at a time like now. We look for the best way to talk about our bank being a responsible bank, our continuous commitment in the search for innovation and the use of new communications channels to express, in practical terms, who we are through experiences like this. Because we believe that, today, companies must not only sell their products but also tell their story, recount who they are and do it in clear, direct, extended and interactive ways. All this is "BNL Live!" - the first episode in a long series."

Franco Ricchiuti
President, President DDraftfcbfcb Milan
"The communication world lives in the moment. Today, there's much talk of Brand Entertainment, i.e. brand content that enable brands to talk about themselves on different conversation platforms through emotional filters, mainly playing on irony or sensationalism. Draftfcb have marked a turning point with the "BNL Live!" campaign. "BNL Live!" is an illuminating example of Branded Content where no artifices of any kind have been used. It is serious discussions, analysed in a professional manner, commented on by famous figures and presented by show business professionals.
BNL never hid behind the scenes. The brand was always there, with its top management, values and services, accompanying every single minute of the 21 hours of live television that we produced. Draftfcb was always there and took care of the entire event, from the creative idea to the editorial, and from the writing of the speeches through to the management of the airing on the YouTube platform.
This is why we defined it as a 3.0 initiative - because it was an official entrance to third millennium of brand communication. And 8.3 million people, who shared BNL Live! with us, accompanied us into this new age."

In addition to creating the format, Draftfcb was also responsible for the entire live television production - the construction of the programme, the authorial and organisational editing, studio direction, scenographic design and the setup of a top level TV studio involving more than 80 people. The endeavour resulted in more than 30 million impressions, 8.3 million people connecting with the stream and 42 hours of video production for more than 39,000 hours of overall on-line playback, which enabled BNL to talk about their business values while translating them into themes of current affairs and collective interest.

Lastly, the involvement of YouTube, the most famous online video community in the world, allowed the achievement of an innovative experiment in Italy. The live streaming of BNL Live! went out on the masthead of the home page, thus enabling an enormous public to 'choose' to watch "BNL Live! the talk show."

About Draftfcb
With an equal focus on creativity and accountability, Draftfcb is committed to producing brilliant ideas that change consumer behavior. As a global, fully integrated marketing communications agency operating against a single P&L, Draftfcb provides clients with highly collaborative, channel-neutral thinking that delivers engagement and, most importantly, action. With nearly 140 years of combined expertise, Draftfcb has roots in both consumer advertising and behavioral, data-driven direct marketing. The Draftfcb network spans 151 offices in 90 countries and employs nearly 8,600 people. The agency is part of the Interpublic Group of Companies (NYSE:IPG). For more information, visit www.draftfcb.com.

About BNL
BNL, founded in 1913, celebrates its centenary this year. Today, it is one of the leading Italian banking groups and among the best-known brands in Italy. With more than 1000 points of sale throughout the country - branches, Centres for Private Individuals, Business Centres 'Creo per l'Imprenditore' and Corporate and Public Administration Centres - BNL offers a wide range of products and services, from the more traditional ones to the more innovative, to satisfy the multiple demands of its customers (private individuals and families, businesses and Public Administration). Since 2006, BNL has been part of BNP Paribas, an international group that can be found in about 80 countries, with more than 190,000 employees, 145,000 of whom are in Europe, where it operates in four domestic markets (Belgium, France, Italy and Luxembourg) through the retail bank. BNP Paribas holds key positions in three major sectors of business - Retail Banking, Investment Solutions and Corporate & Investment Banking.