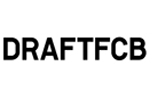 Draftfcb Worldwide,
New York
Follow
Update
100 West 33rd Street
New York, New York 10001-2900
United States
Phone: 212 885-3000
Fax: 212 885-3300
Draftfcb Only Agency to Take 2 Spots on Millward Brown's Top 10 Ranking
July 15, 2013
Draftfcb South Africa is the only agency to take two of the coveted spots on the most recent Millward Brown Top 10 list of South Africa's Most Liked TV Ads.
The agency group came in at Number 2 with a commercial for Vodacom's sponsorship of Kaizer Chiefs and Orlando Pirates that utilised the war cry: 'Ayeye, liyez' iKhosi' and 'Ayeye, liyez' iBhakaniya' or 'Beware, Chiefs are coming' and 'Beware, Pirates are coming'.
Its execution of an ad for Coca-Cola – 'Crazy for Good' – took the Number 8 spot.
The poll position on this most recent list, which ranked favourite ads for the first quarter of 2013, was taken by an overseas agency, which therefore also makes Draftfcb the highest ranked local agency in the line-up.
"Millward Brown's Best Liked Ads list celebrates the country's favourite TV commercials and their advertising agencies, chosen by the industry's most important critics, the consumers," said Draftfcb Chief Creative Officer, Brett Morris.
"We have a reputation for building South Africa's favourite ads using ideas and executions which regularly see us accounting for at least one, but often more, in this respected line-up.
"Even so, each time the list is published, we're thrilled to see our name up there again because it means we are doing the job our clients expect us to do in a way that connects with the people that count, those that buy and support their brands. Well done, team."
Adtrack is Millward Brown's proprietary advertising testing system, evaluating the impact and liking of all brand advertising in South Africa over the last 29 years. The resultant database stands at almost 75 000 TV adverts tested, and more than 1.1 million interviews conducted, making this database one of the largest of its kind in the world.
The full list for the first quarter of 2013 is:
About Draftfcb
With an equal focus on creativity and accountability, Draftfcb is committed to producing brilliant ideas that change consumer behavior. As a global, fully integrated marketing communications agency operating against a single P&L, Draftfcb provides clients with highly collaborative, channel-neutral thinking that delivers engagement and, most importantly, action. With nearly 140 years of combined expertise, Draftfcb has roots in both consumer advertising and behavioral, data-driven direct marketing. The Draftfcb network spans 150 offices in 90 countries and employs nearly 9,000 people. The agency is part of the Interpublic Group of Companies (NYSE:IPG). For more information, visit
www.draftfcb.com
.