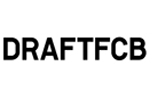 Draftfcb Worldwide,
New York
Follow
Update
100 West 33rd Street
New York, New York 10001-2900
United States
Phone: 212 885-3000
Fax: 212 885-3300
Draftfcb Snares IPG Inclusion Award in the Supplier Diversity Category
July 30, 2013
Interpublic Group (NYSE: IPG) today is hosting its third IPG Inclusion Awards program in New York City to honor agencies and employees who have helped IPG attain its goal of achieving diversity and inclusion in the workplace. Nine award categories recognize the initiative and success of programs and personal efforts.
Draftfcb, which in 2012 was named Agency Champion of Inclusion, took top honors this year in the Supplier Diversity Initiative category. "We're all about finding partnership opportunities for small, disadvantaged, minority and women-owned businesses," said Nausil Kumandan, Draftfcb's supplier diversity manager. "We're committed to building relationships and engaging suppliers who provide quality service, unique business perspectives and results. We know that using diverse suppliers provides a cost savings for brands and generates new business opportunities for the agency."
Keisha Vaughn, the Draftfcb vice president who last year was named Chief Diversity Officer of the Year at the event sponsored by the IPG Multicultural Employee Resource Groups for Excellence (MERGE), added that the agency gets the importance of creating diversity fairs and lunch & learns that connect vendors and clients who otherwise might not discover synergies. "We're thrilled to have helped clients including J&J, Novartis, Pfizer and PG&E reach mandated goals in 2012," said Vaughn. "We're committed to bolstering our mentoring efforts and to continuing to educate diverse suppliers looking to engage the changing American consumer."
Michael Roth was on hand to congratulate all of the winners. Al Madrigal, actor, comedian and correspondent for The Daily Show with Jon Stewart, served as Master of Ceremonies.
About Draftfcb
With an equal focus on creativity and accountability, Draftfcb is committed to producing brilliant ideas that change consumer behavior. As a global, fully integrated marketing communications agency operating against a single P&L, Draftfcb provides clients with highly collaborative, channel-neutral thinking that delivers engagement and, most importantly, action. With nearly 140 years of combined expertise, Draftfcb has roots in both consumer advertising and behavioral, data-driven direct marketing. The Draftfcb network spans 151 offices in 90 countries and employs nearly 8,600 people. The agency is part of the Interpublic Group of Companies (NYSE:IPG). For more information, visit
www.draftfcb.com
.