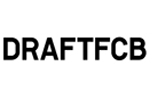 Draftfcb Worldwide,
New York
Follow
Update
100 West 33rd Street
New York, New York 10001-2900
United States
Phone: 212 885-3000
Fax: 212 885-3300
Multi Award Winner Alvin Lim Joins Draftfcb China
September 1, 2013
Multi award-winning creative executive Alvin Lim is joining Draftfcb China as Group Creative Director to bring new momentum to Draftfcb's creative capabilities. He will be based in the agency's Shanghai office.

Alvin is a multi-disciplinary creative with a list of the world's most respected creative and effectiveness awards. At the 2013 Cannes Festival, he brought home the only Gold Lion for Hong Kong and his work went on to pick up another gold recently at AdStars in Busan.

He has been a judge for Spikes Asia, Ad Stars and the New York Festivals. In addition to Cannes, his work is recognised at The One Show, CLIO, New York Festival, Spikes, Adfest, The Work, AME, Effies, Ad Stars, and Hong Kong's Kam Fan.

Over 12 years, Alvin has worked for some of the largest and most respected brands around the world. Previously, at Ogilvy & Mather Hong Kong, he was the Senior Creative Director for Shangri-La globally and Prudential Asia Pacific. And at JWT Hong Kong, Alvin played an essential role to the Global and Regional creative work for HSBC.

Pully Chau, Chairman and CEO of Draftfcb Greater China, said Alvin's addition to the Mondelez creative team is to further uplift the IMC work for Oreo, leading to international creative awards. We have high expectations on his creative output.

Alvin said; "Draftfcb's fully integrated structure means ideas that drive brands can reach deep into the many channels often required to attract consumers effectively. Outstanding Draftfcb productions such as Oreo Daily Twist and the Driving Dogs campaign, plus others, widen the gap between good and great work in the industry. The spirit of the company creates a fitting environment for ambitious work and I'm very excited about the move."