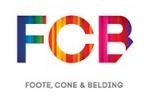 FCB Worldwide,
New York
Follow
Update
100 West 33rd Street
New York, New York 10001-2900
United States
Phone: 212 885-3000
Fax: 212 885-3300
Searching For A Heart In Perú – In A Maximum-Security Prison
September 1, 2013
Since 2010 the Peruvian Cancer Foundation, which provides support to children fighting cancer, has struggled to raise funds. The amount of donations from an increasingly apathetic and economically challenged public had continued to decline.
Enter Mayo Draftfcb in Lima, Perú, the award-winning marketing communications agency that recently received worldwide acclaim developing a billboard that produced water out of desert air to attract engineering students to UTEC, a local engineering university. With their creative challenge being to stop and reverse the fundraising decline, the agency recommended targeting the most unlikely of recruits: hardened convicts in the country's maximum-security Castro-Castro Penitentiary.
"The idea was to directly confront Peruvian society with the indifference that had led to the Foundation not meeting its fundraising goals year after year. So we went to the one segment of our society that nobody wants to see or think about to make the point of compassion and hope," said Humberto Polar, VP and chief creative officer at Mayo Draftfcb.
"Many people consider prisoners to be hopeless, and kids fighting cancer to be very sad," added Polar. "The 'healthy' part of our society doesn't want to think about either segment. To raise enough money to help our kids, we needed to shock. And since prisons are supposed to be a place for healing and redemption, rather than hell on earth, we hoped the prisoners would come together on behalf of the kids and inspire the nation."
It worked. After the agency took its "Ponle Corazón" ("Put Your Heart Into It") drive to a bunch of people who are supposed to have no heart – terrorists, murderers and thieves who make up the inmate collective – the prisoners enthusiastically showed their compassion and caring and their capacity to give.
Within the prison, the inmates campaigned and collected 52 full cans of money, 382 handmade gifts and 382 letters of hope. As word spread, a chord was struck across Perú, leading to the most successful fundraising drive in the Peruvian Cancer Foundation's history.
You can watch a video detailing how the campaign worked and the prisoners' response
here
:
Credits:
Client: Peruvian Cancer Foundation
Executive Creative Director: Humberto Polar
Creative Director: Víctor Vélez /Julio Oshiro
Copywriter: Víctor Vélez
Art Director: Julio Oshiro
Account Director: Ricardo Ortiz
Production Company: Tunche Films
Director: José Zelada
Music: La Sonora/Daniel Sacroisky
Client Supervisor: Susana De Los Ríos
About Draftfcb
Draftfcb places equal emphasis on creativity and accountability, science and art. We are made up of a diverse, passionate group of thinkers, creators, poets, artists & technologists devoted to creating brilliant ideas that change behavior. With nearly 140 years of combined expertise, Draftfcb has roots in both consumer advertising and behavioral, data-driven direct marketing. Our worldwide network now spans 151 offices in 90 countries, with nearly 8,600 people, and is part of the Interpublic Group of Companies (NYSE:IPG). For more information, visit
www.draftfcb.com
.