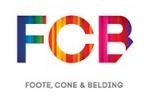 FCB Worldwide,
New York
Follow
Update
100 West 33rd Street
New York, New York 10001-2900
United States
Phone: 212 885-3000
Fax: 212 885-3300
Pablo Munoz Named President of Draftfcb Spain
September 2, 2013
Kate Howe, president of Draftfcb Europe and UK announced today that Pablo Munoz, Draftfcb Spain's general manager, has been promoted to President of the Spanish agencies, effective immediately.
"In his 15 years with the agency Pablo has demonstrated his ability to lead teams, to retain, grow and win clients," said Howe. "Pablo is well known in the Spanish market as a visionary in the communications industry, a thought leader in branded content, technology trends and on-off strategies. I am confident that in his new role he will provide fresh energy to the agency."
Munoz succeeds Pilar Gª Miranda, who has left to pursue other opportunities after having been with the agency for 12 years.
"We'd like to thank Pilar for her passion, energy and dedication in leading the agency successfully and profitably while nurturing talent along the way," added Howe.
Joining Munoz in the management team are Marc Wiederkehr, CFO, who will take on the additional role of COO, and Pedro Soler, executive creative director and leader of the innovation team at Draftfcb Spain.
On his new appointment, Munoz commented: "I am excited to embrace this new challenge. Draftfcb Spain want to subvert the typical processes of communication agencies through innovation and collaboration in response to the changes that society 2.0 is bringing to our industry. I'm sure it will not be long before we unveil new projects and initiatives that will help us and our clients push boundaries in the continued pursuit of creative and commercial excellence."
About Draftfcb
With an equal focus on creativity and accountability, Draftfcb is committed to producing brilliant ideas that change consumer behavior. As a global, fully integrated marketing communications agency operating against a single P&L, Draftfcb provides clients with highly collaborative, channel-neutral thinking that delivers engagement and, most importantly, action. With nearly 140 years of combined expertise, Draftfcb has roots in both consumer advertising and behavioral, data-driven direct marketing. The Draftfcb network spans 151 offices in 90 countries and employs nearly 8,600 people. The agency is part of the Interpublic Group of Companies (NYSE:IPG). For more information, visit
www.draftfcb.com
.