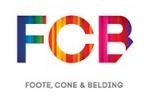 FCB Worldwide,
New York
Follow
Update
100 West 33rd Street
New York, New York 10001-2900
United States
Phone: 212 885-3000
Fax: 212 885-3300
Draftfcb Signals New Ambition With Awards Weekend Royal Flush
September 25, 2013
Full-service agency Draftfcb Cape Town has signalled a new ambition with its performance – a 'Royal Flush' – at the prestigious Loeries Creative Week (September 20-22) in the Mother City.
Loeries Creative Week Cape Town has become an annual creative hub where over 4000 members of the brand communication industry meet and network, and are inspired and educated by the power of creative communication.
The two awards evenings taking place during the week are the Pendoring Advertising Awards, which recognises communicating in the home language of the target market, be it Afrikaans, Zulu, isiXhosa, and so on; and the country's premier awards for the local advertising industry, The Loerie Awards.
Draftfcb Cape Town's Royal Flush during the week included a Loerie Grand Prix, a Pendoring Gold, a handful of Loerie and Pendoring Silvers, and a clutch of Loerie Bronzes.
It comes hot on the heels of the agency's wins at the 60th annual Cannes Lions International Festival of Creativity where it beat off competition from around the globe to win a Silver and a Bronze Lion.
The agency's recent awards performance puts it in a Top 3 position in Cape Town, a ranking new Managing Director, Eric D'Oliviera, fully intends holding on to in the short term, and improving in the medium.
"I couldn't have asked for a more fulfilling and rewarding first few months on the job," he said.
"Our awards performance, our best at Loeries, certainly puts the spotlight on our new ambition, which is manifesting in the creative talent we're attracting – and hiring – from Johannesburg and other Cape Town agencies," added Executive Creative Director, Mike Barnwell.
"In a few months' time, we move to new offices – in a way, I suppose that will complete our overhaul. Well done to everyone involved in our award-winning work. I think it's fair to say, the new Draftfcb Cape Town is taking shape," said Barnwell.
Draftfcb Cape Town's 2013 Loerie Awards are:
Grand Prix – Engen Fire Blanket (Alternative Media and Field Marketing)
Silver – Engen Fire Blanket (Ubuntu Award)
Bronze – Vital Health Foods Viral Boost The World's Smallest Big Idea (In-Store)
Bronze – Peninsula School Feeding Association (Radio)
Draftfcb Cape Town's 2013 Pendoring Advertising Awards are:
Gold – Engen Fire Blanket
Three (3) Silvers – Pendoring 2012 campaign
Draftfcb Cape Town's 2013 Cannes Lions International Festival of Creativity wins are:
Silver – Engen Fire Blanket (Ambient – Small Scale Special Solutions)
Bronze – Vital Health Foods Viral Boost The World's Smallest Big Idea (Best Temporary In-Store Displays in a Promotional Campaign)
About Draftfcb
Draftfcb places equal emphasis on creativity and accountability, science and art. We are made up of a diverse, passionate group of thinkers, creators, poets, artists & technologists devoted to creating brilliant ideas that change behavior. With nearly 140 years of combined expertise, Draftfcb has roots in both consumer advertising and behavioral, data-driven direct marketing. Our worldwide network now spans 151 offices in 90 countries, with nearly 8,600 people, and is part of the Interpublic Group of Companies (NYSE:IPG). For more information, visit
www.draftfcb.com
.