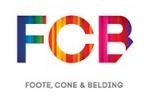 FCB Worldwide,
New York
Follow
Update
100 West 33rd Street
New York, New York 10001-2900
United States
Phone: 212 885-3000
Fax: 212 885-3300
OREO Dunk into Ireland with the "Dublin Twist"
October 20, 2013
Mondelez have launched their first outdoor campaign in Ireland for OREO, the "Dublin Twist". Created by Draftfcb London, the campaign will appear across Dublin from today. This great opportunity for OREO is the result of PHD winning €150,000 of media space in JC Decaux's "Fame – The Agency Edition" competition.
Following on from the Cannes Lions Cyber Grand Prix winning "Daily Twist" which marked OREO's centenary, the "Dublin Twist" campaign will blanket the city with OREO's homage to local landmarks and special events. The playful outdoor ads use the iconic white crème and the distinctive exterior of "America's Favourite Cookie" to suggest fifteen different sites for Dubliners to visit together. These include visiting the Hugh Lane Gallery, completing the maze in the Iveagh Gardens or attending the Bram Stoker Festival. The sixteenth, final twist will depict one of Dublin's institutions or events based on a winning suggestion from one of the TheJournal.ie's readers.
Commenting on the campaign, Jonathan Ryan, brand manager – biscuits Ireland, Mondelez International said, "We were delighted to have won 'Fame – The Agency Edition' and now we can showcase the personality of the OREO brand using a uniquely Dublin twist."
OREO are also transforming the city's public transport with bus wraps and special station activity. When the OREO Express, a wrapped train, pulls into Dublin's Pearse station, a branded installation will dispense OREO samples. In addition, the brand will support runners with a good luck message and goody bag contribution at the Dublin Marathon (Monday 28th October).
Draftfcb London's Executive Creative Director David Harris commented, "Through the iconic images of OREOs, this campaign invites people to get together and discover the less well known, more unconventional parts of Dublin. In addition to helping connect them with each other, we direct them to different events in a fun and playful way."
The campaign runs from 21st October to 4th November and covers out of home, press, experiential and social media.
Credits:
Client: Jonathan Ryan, brand manager – biscuits Ireland, Mondelez International
Creative agency: Draftfcb
Executive Creative Director: David Harris
Creative Director: Colin Mitchell
Copywriters: Dan Shone / James White
Art Directors: Sean Cullen / Henry Finnega
Chief Planning Officer: Simon White
Account Manager: Sophia Redgrave
Media agency: PHD
Illustrator/ CGI Imagery: Paul Cornish, Colourworks Imaging
About Draftfcb
With an equal focus on creativity and accountability, Draftfcb is committed to producing brilliant ideas that change consumer behavior. As a global, fully integrated marketing communications agency operating against a single P&L, Draftfcb provides clients with highly collaborative, channel-neutral thinking that delivers engagement and, most importantly, action. With nearly 140 years of combined expertise, Draftfcb has roots in both consumer advertising and behavioral, data-driven direct marketing. The Draftfcb network spans 151 offices in 90 countries and employs nearly 8,600 people. The agency is part of the Interpublic Group of Companies (NYSE:IPG). For more information, visit
www.draftfcb.com
.
About Mondelez International
Mondelez International, Inc. (NASDAQ: MDLZ) is a global snacking powerhouse, with 2012 revenue of $35 billion. Creating delicious moments of joy in 165 countries, Mondelez International is a world leader in chocolate, biscuits, gum, candy, coffee and powdered beverages, with billion-dollar brands such as Cadbury, Cadbury Dairy Milk and Milka chocolate, Jacobs coffee, LU, Nabisco and Oreo biscuits, Tang powdered beverages and Trident gum. Mondelez International is a proud member of the Standard and Poor's 500, NASDAQ 100 and Dow Jones Sustainability Index. Visit
www.mondelezinternational.com
and
www.facebook.com/mondelezinternational
.