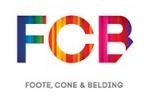 FCB Worldwide,
New York
Follow
Update
100 West 33rd Street
New York, New York 10001-2900
United States
Phone: 212 885-3000
Fax: 212 885-3300
Draftfcb China Wins Effies Bronze for Colour of Hearts Campaign
October 28, 2013
Draftfcb China's year-long campaign to attract funding to a home for handicapped children has won the agency a Bronze Effie at the 2013 China Advertising Effectiveness Awards announced this week.
The Draftfcb campaign has attracted funding in excess of US$16,000 to the CereCare Wellness Centre, a specialist facility for children suffering from Cerebral Palsy. Draftfcb executives were attracted to the centre after hearing a 70-year-old women who suffers from Cerebral Palsy had sold her home to support the centre.
In October last year Draftfcb China donated educational equipment and clothing and sent a team of senior people to the centre to help the children paint seven murals of art. Each of the paintings captured the theme of 'Hearts' in various colourful expressions including love, care, warmth and happiness. See the
video
The murals were reproduced and together with the seven originals were auctioned on November 4 2012, with the proceeds going to support the CereCare Wellness Centre.
On each consecutive day the children from the centre produced a new painting with the theme of "hearts" and Draftfcb arranged online auctions for the work to keep money flowing to the centre.
Pully Chau, Chairman and CEO of Draftfcb Greater China, said the launch and prolonged campaign to help the CereCare Wellness Centre had provided valuable support for the Centre. "It was also hugely rewarding for our Shanghai agency, providing a type of 'karma marketing' experience for executives of all levels at the agency," said Ms. Chau.
About Draftfcb
Draftfcb places equal emphasis on creativity and accountability, science and art. We are made up of a diverse, passionate group of thinkers, creators, poets, artists & technologists devoted to creating brilliant ideas that change behavior. With nearly 140 years of combined expertise, Draftfcb has roots in both consumer advertising and behavioral, data-driven direct marketing. Our worldwide network now spans 151 offices in 90 countries, with nearly 8,600 people, and is part of the Interpublic Group of Companies (NYSE:IPG). For more information, visit
www.draftfcb.com