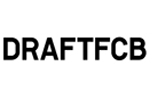 Draftfcb Worldwide,
New York
Follow
Update
100 West 33rd Street
New York, New York 10001-2900
United States
Phone: 212 885-3000
Fax: 212 885-3300
James Mok Appointed Regional ECD for Draftfcb in Asia Pacific
September 16, 2012
Draftfcb's group executive creative director for Australia and New Zealand James Mok is adding Asia Pacific creative responsibilities to his current duties, effective immediately. For that aspect of his job, he will report to the region's Chief Operating Officer Jonathan Allard.

"James Mok is a world-class creative leader and we are happy that the whole region will now benefit from his experience," said Allard. "We have designed this new regional role specifically for him. He will retain his creative leadership of the Australia and New Zealand agencies and in addition help elevate our creative product throughout APAC."

Since he joined the agency in 2005, Mok has been Draftfcb's most senior creative executive in New Zealand. For the past two years the agency has been ranked the world's number one for effectiveness in the WARC World EFFIE Index in the Government and Non-Profit category. Draftfcb in New Zealand has also grown to become one of the country's top three full- service agencies. During that time it has been awarded at Cannes, One Show, Clios, Spikes, Andy's, AWARD, Caples and has won New Zealand "Agency of the Year" twice.

James's new extended role is fully supported in New Zealand where Draftfcb has expanded its creative leadership team with the recent appointment of two new ECDs, Tony Clewett and Regan Grafton, and in Sydney with Creative Director, Simon Edwards.

In his regional role Mok will also be a member of the Draftfcb Global Creative Council. As such, he will assess the agency's work in Asia Pacific, evaluating creative performance, mentoring for creative development and driving creative initiatives that assist the agency at the regional and local levels.

"This is a great opportunity to help grow our network's creative footprint in APAC," said Mok. "I already know the key creative leaders in the region and there is considerable talent in the agencies that I hope to support in any of their creative challenges."

Mok is the second senior executive with regional responsibilities announced at Draftfcb in APAC recently. In June, Allard appointed Connie Wong as regional human resources director.

About Draftfcb
With an equal focus on creativity and accountability, Draftfcb is the first global, fully integrated marketing communications agency for the digital age to operate against a single P&L without any silos. The agency is driven by a singular focus on consumer behavior as expressed by its proprietary 6.5 Seconds That Matter operating system, which recognizes the importance of producing creative work that really matters to consumers in the brief amount of time they are willing to give marketers in today's media-saturated world. The Draftfcb network spans 150 offices in 90 countries and employs nearly 9,000 people.