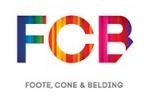 FCB Worldwide,
New York
Follow
Update
100 West 33rd Street
New York, New York 10001-2900
United States
Phone: 212 885-3000
Fax: 212 885-3300
Draftfcb in London win at the Kinsale International Advertising Awards
September 20, 2012
Draftfcb in London have been awarded Silver and Bronze Sharks for Best Copywriting in the Print category at the Kinsale International Advertising Awards with its campaign "Sport Changes Lives" for the charity Sported.
The boutique international advertising festival, heralded as advertising's equivalent of Sundance, was headed by Honorary Chairman Sir John Hegarty with voting performed by an illustrious board of global Executive Creative Directors.
The ads reflect the current mood of a country focusing on the Olympic legacy and highlight how sports initiatives in inner cities can create positive futures for vulnerable youths. They tell stories in parallel that match word for word but with different titles that cleverly change the copy's meaning -- one depicting an athletic achievement, the other the violent culture of street crime.
The "In Court / On Court" execution clinched the Silver in its debut before a creative jury and "Cross the Line," which has collected accolades at D&AD, Creative Circle and MAA Best Awards, picked up the Bronze. Both ads are also shortlisted at Campaign's Big Awards later this autumn.
Head of Creative Alistair Ross commented, "These ads have underlined our ability as an agency to convey powerful messages on a limited budget. We welcome the challenge to create work as strong as this which really impacts on consumer behaviour so we can grow our clients' business and continue our presence at top-level advertising festivals."
About Draftfcb
With an equal focus on creativity and accountability, Draftfcb is committed to producing brilliant ideas that change consumer behavior. As a global, fully integrated marketing communications agency operating against a single P&L, Draftfcb provides clients with highly collaborative, channel-neutral thinking that delivers engagement and, most importantly, action. With nearly 140 years of combined expertise, Draftfcb has roots in both consumer advertising and behavioral, data-driven direct marketing. The agency's corporate leadership team includes Howard Draft, executive chairman; Laurence Boschetto, CEO and president; Jonathan Harries, vice chairman emeritus & executive advisor, global creative; and Neil Miller, chief operating officer. The Draftfcb network spans 150 offices in 90 countries and employs nearly 9,000 people. The agency is part of the Interpublic Group of Companies (NYSE:IPG). For more information, visit
www.draftfcb.com
.