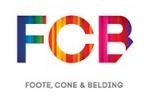 FCB Worldwide,
New York
Follow
Update
100 West 33rd Street
New York, New York 10001-2900
United States
Phone: 212 885-3000
Fax: 212 885-3300
"The Caveman Behind The Keyboard"<br>Presented by Willcox and Talks at ad:tech London 2012
September 19, 2012
Matthew Willcox, executive director of Draftfcb's Institute of Decision Making, and Martin Talks, president of digital for Draftfcb in London and global digital lead, hosted a seminar at London's ad:tech conference (19th-20th September, 2012), with a perspective from the Institute of Decision Making on the instinctive aspects of how we make decisions: The Caveman Behind The Keyboard.
With the rest of the conference taking a future-gazing approach, Willcox's and Talks's talk complemented the spirit of ad:tech with a look back to pre-history and offered practical advice on how the development of our decision-making systems over hundreds of thousands, or even millions of years influences decision-making in digital environments.
"Though technology becomes more sophisticated every day, our intuitive systems that drive much of our decision-making have changed very little since the dawn of civilisation," said Willcox. "In the presentation, we explored some of these key cognitive mechanisms, their possible evolutionary roots, and gave our take on how to leverage them in a digital landscape."
Talks added, "Matthew looked at the human operating system and how we make decisions; I looked at how we hack that operating system and influence decisions through digital technology."
Experts believe that the hominid brain has been evolving for five or six million years. Willcox and Talks put that in perspective by pointing out that 99.9999% of this time had passed before the first commercial website was launched in 1993.
Other highlights included real-world examples of the endowment effect at work in loyalty schemes, and how advertisers should look to capitalise on recency bias (how our intuitions lead us to believe that the most recent information is the most important) by geo-fencing offers using smartphone technology.
Willcox has over two decades of experience in communications strategy and leads the team at the Institute of Decision Making, which strives to deepen understanding of consumer behaviour through relationships with academics and experts in the areas of behavioural psychology and neurosciences around the world. He also leads Draftfcb's involvement in "New Realities," a major global research study into decision making in the information age.
Talks co-founded Blue Barracuda, which was acquired by Draftfcb in the UK last year, and now spearheads the agency's pursuit of digital excellence worldwide. He lives and breathes digital with a proven track record in delivering rapidly scalable online strategies and communications.
You can see pictures from the event
here
and if you are interested in learning more about the Institute of Decision Making's research please visit
www.instituteofdecisionmaking.com
.
About Draftfcb
With an equal focus on creativity and accountability, Draftfcb is committed to producing brilliant ideas that change consumer behaviour. As a global, fully integrated marketing communications agency operating against a single P&L, Draftfcb provides clients with highly collaborative, channel-neutral thinking that delivers engagement and, most importantly, action. With nearly 140 years of combined expertise, Draftfcb has roots in both consumer advertising and behavioural, data-driven direct marketing. The agency's corporate leadership team includes Howard Draft, executive chairman; Laurence Boschetto, CEO and president; Jonathan Harries, vice chairman emeritus & executive advisor, global creative; and Neil Miller, chief operating officer. The Draftfcb network spans 150 offices in 90 countries and employs nearly 9,000 people. The agency is part of the Interpublic Group of Companies (NYSE:IPG). For more information, visit
www.draftfcb.com
.