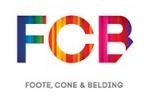 FCB Worldwide,
New York
Follow
Update
100 West 33rd Street
New York, New York 10001-2900
United States
Phone: 212 885-3000
Fax: 212 885-3300
Keisha Vaughn Named a 2012 WDLS Diversity Champion<br>Draftfcb Chief Diversity Officer Among 17 Honored in St. Louis
October 2, 2012
Draftfcb Chief Diversity Officer Keisha Vaughn was honored at the World Diversity Leadership Summit in St. Louis yesterday with a Diversity Champions Award. Vaughn joined an elite group of executives from a diverse group of companies in receiving the honor.
"Diversity and inclusion are part of Draftfcb's DNA and I'm thrilled to lead our charge toward diversifying our agency and the advertising industry," said Vaughn. "While proud of our many achievements, it is taking too long to achieve unfettered inclusion. As an industry, we all need to embrace diversity and make sure inclusion becomes our rallying cry."
Launched in 2004, the World Diversity Leadership Summit is the leading gathering of senior corporate, government and non-governmental organization (NGO) officials, focused on the complex challenges and opportunities related to local and global diversity management.
Cindy Augustine, Draftfcb's global chief talent officer, praised Vaughn for working tirelessly to "build capability in others around inclusion and to turn Draftfcb's deep knowledge of the new mass market into our agency's market advantage."
The WDLS honor marks the second for Vaughn in the past few months. In July, when Draftfcb was named Agency Champion of Inclusion at Interpublic Group's (IPG) Merge Awards, Vaughn was named Chief Diversity Officer of the Year.
About Draftfcb
With an equal focus on creativity and accountability, Draftfcb is committed to producing brilliant ideas that change consumer behavior. As a global, fully integrated marketing communications agency operating against a single P&L, Draftfcb provides clients with highly collaborative, channel-neutral thinking that delivers engagement and, most importantly, action. With nearly 140 years of combined expertise, Draftfcb has roots in both consumer advertising and behavioral, data-driven direct marketing. The agency's corporate leadership team includes Howard Draft, executive chairman; Laurence Boschetto, CEO and president; Jonathan Harries, vice chairman emeritus & executive advisor, global creative; and Neil Miller, chief operating officer. The Draftfcb network spans 150 offices in 90 countries and employs nearly 9,000 people. The agency is part of the Interpublic Group of Companies (NYSE:IPG). For more information, visit
www.draftfcb.com
.