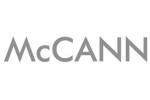 McCann Erickson New York,
New York
Follow
Update
622 Third Avenue
New York, New York 10017
United States
Phone: (+1) 646-865-2000
Fax: (+1) 917-661-3311
About Us
McCann Erickson New York is the flagship and largest office of McCann Erickson Worldwide, the world's largest advertising agency network, with operations in more than 120 countries and a client roster that includes preeminent global marketers and many of the world's most famous brands. The agency is a unit of McCann Worldgroup, a leading global marketing solutions network, comprised of a collaborative roster of best-in-class agencies that emphasize creativity, innovation and performance.
Philosophy & Competitive Advantages
McCann has a simple and highly focused mission that hasn't changed since it was first penned over 100 years ago: Truth Well Told. We believe effective communication achieves impact in the marketplace by identifying a truth or cultural relevance about a brand and exploiting it to build long term brand value. Regardless of medium, discipline, distribution channel, or author, it isn't Truth Well Told unless it's strategic, highly creative, and ROI focused. McCann's unwavering commitment to delivering effective advertising has and remains central to the culture of the agency.
Network Description
Number of countries where represented: 120
Europe: 43; Americas: 23; Africa: 22; Asia: 17 Middle East: 11
Local Representation
We are part of McCann Worldgroup. Over a decade ago we were the first to recognize that the world of communications was changing. In order to provide our clients with compelling, business-driving solutions we needed to seamlessly integrate all marketing channels, not just advertising. McCann Worldgroup was created as a best-in-class resource for total marketing communications solutions. The benefits of these cross-discipline offerings has maximized our clients' growth and deepened and strengthened our relationships.