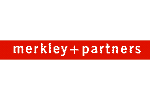 Merkley + Partners,
New York
Follow
Update
200 Varick Street 12th Floor
New York, New York 10014
United States
Phone: 212 805-7500
Fax: 212 805-7445
Philosophy & Competitive Advantages
As one of the fastest growing agencies in US history, we're proud of our work and our client relationships. Founded in 1993 with just over 40 people and $55 mm in billings, we now have over half a billion dollars in billings and more than 250 employees.

Partnering with such blue chip Clients as Pfizer and SBC, our growth is the result of our Clients' growth. We create award-winning work for clients such as Mercedes-Benz, the #1 luxury car in the United States, as well as Lipitor, the #1 prescription drug in the world.

In these past years, Merkley + Partners has grown beyond its general advertising roots to be a full service agency within the Omnicom Network, excelling at building brands while reaching the right consumers with powerful, well placed messaging and great creative execution.

At Merkley + Partners, we have a well-founded mission and process that serve as the foundation to great thinking, memorably expressed.