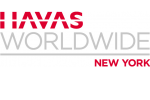 Havas Worldwide New York,
New York
Follow
Update
200 Hudson Street
New York, New York 10014-4504
United States
Phone: 212 886-4100
Fax: 212 886-4415
Philosophy & Competitive Advantages
Havas Worldwide was formed in 1991 as a new breed of communications company. We are the youngest of the global networks and the most multicultural in outlook. Our 11,000 employees in 75 countries embody the entrepreneurial spirit of the agency, challenging industry conventions and pioneering new paths.
The revolutions in business and technology, coupled with the emergence of information-empowered consumers, have made the communications landscape a new global playing field. At Havas Worldwide, we are ushering in the future, making connections between brands, consumers, and communications channels.
Specifically, we put digital at the core of our agency. We've developed new processes, new roles, and new ways of attacking the issues facing our clients. This new combination of services adds up to the most entrepreneurial, most agile player in our business.
Our Vision: To be the most future-facing global ideas agency
Our Philosophy: is based on getting our Clients to the Future First through the development of Creative Business Ideas.
Our Mission: To deliver Creative Business Ideas that drive profitable growth for our clients
How: By understanding more about the future of consumers, categories and brands
Network Description
We are the largest agency within the Havas Worldwide network. Our network has offices in 75 countries, with combined billings over $7 billion and over 10,000 employees worldwide. Havas Worldwide is the sixth largest network in the US, the largest in Europe and among the five leading networks in the world. Our network has over 233 agencies worldwide with capabilities to provide strong, local expertise empowered by a worldwide network of resources and capabilities.
Trade Organizations
American Association of Advertising Agencies (AAAA)
Association of Hispanic Advertising Agencies (AHAA)