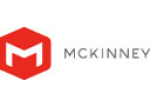 318 Blackwell Street
Durham, North Carolina 27701
United States
Phone: 919.313.0802
Fax: 919.313.0805
About Us
McKinney is an independent, fully integrated agency with 200 employees headquartered in Durham, North Carolina. Effie Worldwide recently named McKinney "the most effective independent agency in the world." The agency, founded in 1969, has enjoyed a long growth trajectory. Over the past three years, McKinney revenues are up 59%, with the addition of new agency-of-record assignments from Nationwide Insurance, Sherwin-Williams, GNC, Mizuno, Ruby Tuesday and Meijer Superstores. After parting ways in 2010, we came back together with Travelocity in August of 2012. We are an idea-focused agency with very deep digital expertise and a hard-earned reputation for leadership in communications integration. Unlike many agencies, we never set up a separate digital division or P&L; instead, we integrated our digital activities into our existing disciplines. We do not believe any client should have to choose between insightful strategy and brilliant execution—both create economic value.
Philosophy & Competitive Advantages
Pound for pound, there's no agency in America with our track record of results. We operate from one very simple premise: your success is our success. We win lots of awards, but the one we covet most is the Effie. We've won 29 Effies since 2003 and we're happy to prove that there's no agency where you have a better chance of Effie-worthy results. We demand a lot of ourselves, and we've done things to adapt to our changing world that most agencies are only starting to worry about. Our clients are based an average 992 miles from our front door. We must be doing something right for so many clients to be willing to travel so far, and bypass so many other good agencies, to work with us. Part of it is our focus on results. Part of it is our focus on the right people. Our staff comprises top talent from six continents, nine countries and 48 states. We are picky: we assess 150 people for every six we interview for every one hire. Our CEO is on the board of the 4A's, was founding chair the Interactive Advertising Bureau Agency Advisory Board and ran Leo Burnett USA before coming to McKinney. His credentials are pretty much the norm here. People also say we're good to work with. Maybe that's because we have toiled at places where people were too busy stabbing each other in the back to notice the real competition was outside the building. We live by the "No Asshole" rule. It's amazing what you can accomplish when you really like and respect each other. Part of it is we are constantly seeking more powerful ways for brands and people to connect. Real strategic and creative integration is hard. To make it happen, we were the first major agency to put digital into our existing disciplines and the third agency to pioneer connection planning; our media planners and creatives collaborate freely, and we literally built our work environment to enable the kind of left- and right-brained collaboration that true integration requires.
Trade Organizations
American Association of Advertising Agencies (AAAA)