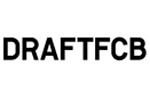 Draftfcb West,
San Francisco
1160 Battery Street, Suite 250
San Francisco, California 94111
United States
Phone: 415 820 8000
Fax: 415 820 8087
Country Phone Code: 1
DRAFTFCB ADDS NEW BUSINESS STRENGTH IN SAN FRANCISCO
February 6, 2013
Notable New Business Sage Brooks Day to Accelerate Agency's Continued Growth
SAN FRANCISCO, February 6, 2013 — In a step designed to further accelerate its West Coast operations, Draftfcb today announced that Brooks Day has joined the agency's San Francisco office as vice president of business development. Reporting to both Dominic Whittles, president of Draftfcb in San Francisco, and Peter Drakoulias, Global Chief of Staff, Day is charged with strengthening and broadening the office's new business reach and activities.
A well-known, long-time resident of the Bay area, Day's career includes successful top-level business development posts at Seismicom, Clikthrough, and Razorfish. He joins Draftfcb from Razorfish, where he led the revenue growth of the San Francisco, Portland, and Seattle offices. During his tenure, Day established a new-business process for the firm while prospecting, pitching, and signing 10 Fortune 500 companies to the roster.
"Knowing the contribution he is capable of making, we are doubly pleased to have Brooks on our team," said Whittles. "He comes with an awesome track record that's earned him accolades on several fronts. He has national and international experience and has enjoyed success in the automotive, financial, food, gaming and mobile categories. This venerable ad man has heart, and that's a winning combination."
Said Drakoulias, "Finding a talented business development executive is no different than finding a talented creative – you know when you know. We couldn't be any more excited to have Brooks on the team."
Day said he's enjoyed watching Draftfcb's trajectory and is thrilled to join the organization. "The agency's innovative, creative, award-winning efforts for clients make it easy to predict that more success is on the horizon," said Day. "In the ad world we all know the horizon is riddled with new challenges and opportunities and I'm committed to helping Draftfcb earn and capture those opportunities for prospective and existing clients."
Day is a graduate of John Cabot University in Rome, Italy, and also holds a Bachelor of Arts in Industrial & Organizational Psychology and Business Administration from Point Loma Nazarene University in San Diego.

DRAFTFCB GETS SIGNIFICANT CREATIVE INFUSION IN SOUTHERN CALIFORNIA
December 5, 2012
Acclaimed, Award-Winning Storyteller Enters Fold As Agency Plans to Open
Satellite Office in Los Angeles
ORANGE COUNTY, Calif., Dec. 5, 2012 – The principal lead creative behind Volkswagen's wildly popular mini-Darth Vader phenomenon is bringing his force to Draftfcb in Southern California.
Eric Springer, most recently chief creative officer of Santa Monica-based Pitch, and who
spent much of the past decade growing Deutsch/LA from a 15-person start-up to a highly
regarded machine, is joining the Draftfcb Orange County office as EVP, Chief Creative
Officer on Jan. 2, 2013. In his new role, he will also establish a creative beachhead for
Draftfcb in Los Angeles, while overseeing the creative output of both locations.
Springer will assume primary creative responsibility for Draftfcb's Taco Bell account,
which the agency has handled since 2000. He joins as the agency's "Live Más"
campaign, launched earlier this year and which includes wildly successful work for
Doritos Locos Tacos and the Cantina Bell menu line, has received industry accolades for
going above and beyond for customers and driving strong sales. It has also earned
praise for crossing cultures and speaking to the diverse consumers who make up the
changing landscape of The New America.
"Eric makes brands famous," said Tom O'Keefe, ECD of Draftfcb North America. "He will
help take Taco Bell and all of the agency's clients to even greater heights – and work his
magic on new brands he undoubtedly will bring into the network. He is a gifted
storyteller who creates campaigns that resonate with consumers, and he's a proven
leader. With our new satellite office in L.A. supporting Orange County, we know Eric
will help infuse our agency with a deeper bench strength of creative talent in both
locations."
"We are very excited that Draftfcb is hiring a person of Eric's creative caliber to lead
Draftfcb's operations in Southern California," said Brian Niccol, Chief Marketing and
Innovation Officer at Taco Bell. "We have been very pleased with the work from Draftfcb
Orange County this year, and now with Eric's creative leadership we are even more
excited to see the work get better and better."
Other clients on Draftfcb's roster in Orange County include Petco and the Ad Council's
Wildfire Prevention/Smokey Bear accounts.
Springer, a 20-year industry veteran, led Deutsch's transition into digital media, building
fully integrated accounts, and producing digital and viral campaigns for clients including
Volkswagen, Coors Light and General Motors. He was lead creative on countless new
business pitches resulting in millions in increased billings and revenue. In addition to
VW, Springer's other notable campaigns include: "Happy Cows" for California Cheese,
"Rethink" for Saturn, and the Blockbuster/Pay-Per-View campaign for Direct TV. He has
worked for creative hot shops including TBWA\Chiat\Day, DDB, and Hal Riney &
Partners.
"This is an exciting next step in my career," said Springer. "I'm excited about joining the
team and continuing to reinforce Taco Bell as an iconic brand and the envy of the
industry. I'm also looking forward to helping strengthen Draftfcb's creative reputation in
Southern California and adding to the creative community within Los Angeles."
# # #