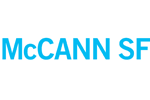 McCann Erickson,
San Francisco
Follow
Update
600 Battery Street
San Francisco, California 94111
United States
Phone: 415 262 5600
Fax: 415 262 5400
Philosophy & Competitive Advantages
We ask our clients to stand for one thing, so we will too: We make things that sell things. Things that will engage people and make them act. We take complicated problems and make them simple. Certainly we make TV and print campaigns. But we also make engaging websites, rich media, web films, mobile phone apps and stimulate conversations on Facebook and Twitter. Ultimately we judge the things we make, by how well they sell the things you make. And we make things for a world immersed in technology. We use technology in everything we do. Our experience with tech brands is an advantage for non-tech brands. Because these days, every company is a tech company.
Trade Organizations
American Association of Advertising Agencies (AAAA)
Direct Marketing Association (DMA)