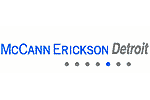 McCann Erickson Midwest,
Birmingham
Follow
Update
360 West Maple Road
Birmingham, Michigan 48009
United States
Phone: 248 203-8000
Fax: 248-203-8022
Philosophy & Competitive Advantages
Our core mission is simple and highly focused: To create communications that are most effective in driving demand for our clients' products and services. We provide a full range of best-in-class marketing expertise including advertising, digital, promotions, public relations, brand identity and relationship marketing. McCann Midwest is part of McCann Worldgroup, the world's most extensive network of advertising agencies. With offices in 180 cities in 133 countries, we offer unequaled resources to meet the global needs of our clients.
Network Description
EUROPE (Country/City)
Albania: Tirana
Austria: Vienna
Azerbaijan: Baku
Belarus: Minsk
Belgium: Antwerp, Brussels, Kortrijk
Bosnia: Sarajevo
Bulgaria: Sofia
Croatia: Zagreb
Cyprus: Nicosia
Czech Republic: Prague
Denmark: Copenhagen
Estonia: Tallinn
Finland: Helsinki
France: Grenoble, Lyon, Paris
Georgia: Tblilisi
Germany: Berlin, Dresden, Duesseldorf, Frankfurt, Hamburg, Nuernberg
Greece: Athens
Hungary: Budapest
Iceland: Reykjavik
Ireland: Dublin
Italy: Milan, Rome
Kazakhstan: Almaty
Latvia: Riga
Lithuania: Vilnius
Macedonia: Skopje
Malta: Valletta
Netherlands: Amsterdam, Arnhem, Rotterdam
Norway: Oslo
Poland: Warsaw
Portugal: Lisbon, Porto
Romania: Bucharest
Russia: Moscow
Slovak Republic: Bratislava
Slovenia: Ljubljana
Spain: Barcelona, Madrid, Valencia
Sweden: Malmo, Stockholm
Switzerland: Geneva, Zurich
Turkey: Istanbul
Ukraine: Kiev
UK: Belfast, Birmingham, Bristol, Leeds, London, Manchester
Uzbekistan: Tashkent
Yugoslavia: Belgrade

AMERICAS (Country/City)
USA: Detroit, Los Angeles, Miami, New York, San Francisco (Allied agencies are located in: Atlanta, Dallas, Houston, Seattle)
Canada: Calgary, Montreal, Toronto, Vancouver
Argentina: Buenos Aires
Aruba: Oranjestad
Bahamas: Nassau
Barbados: Bridgetown
Belize: Belize City
Bermuda: Hamilton
Bolivia: Cochabamba, La Paz, Santa Cruz
Brazil: Belo Horizonte, Brasilia, Curitiba, Fortaleza, Porto Alegre, Recife, Rio de Janeiro, Sao Paulo, Salvador
Chile: Santiago
Colombia: Bogota, Cali, Medellin
Costa Rica: San Jose
Dominican Republic: Santo Domingo
Ecuador: Guayaquil, Quito
El Salvador: San Salvador
Grand Cayman: Georgetown
Guatemala: Guatemala City
Guyana: Georgetown
Haiti: Port-au-Prince
Honduras: San Pedro Sula, Tegucigalpa
Jamaica: Kingston
Martinique: Lamentin
Mexico: Mexico City
Nicaragua: Managua
Panama: Panama City
Paraguay: Asuncion
Peru: Lima
Puerto Rico: San Juan
Surinam: Paramaribo
Trinidad: Port of Spain
Uruguay: Montevideo
Venezuela: Caracas

AFRICA (Country/City)
Algeria: Algiers
Angola: Luanda
Botswana: Gaborone
Cameroon: Douala
Ethopia: Adis Ababa
Ghana: Accra
Ile De La Reunion: Saint-Denis
Ivory Coast: Abidjan
Kenya: Nairobi
Madagascar: Antananarivo
Malawi: Blantyre
Mauritius: Port Lois
Morocco: Casablanca
Mozambique: Maputo
Namibia: Windhoek
Nigeria: Lagos
Senegal: Dakar
South Africa: Cape Town, Johannesburg
Sudan: Khartoum
Tanzania: Dodoma
Tunisia: Tunis
Uganda: Kampala
Zambia: Lusaka
Zimbabwe: Harare

ASIA PACIFIC (Country/City)
Australia: Sydney, Melbourne, Brisbane
Bangladesh: Dhaka
Cambodia: Phnom Penh
China: Beijing, Guangzhou, Hong Kong, Shanghai
Hong Kong: Hong Kong
India: Bangalore, Calcutta, Chennai, Mumbai, New Delhi
Indonesia: Jakarta
Japan: Osaka, Tokyo
Laos: Vientiane
Malaysia: Kuala Lumpur
Myanmar:Yangon
Nepal: Kathmandu
New Zealand: Auckland, Wellington
Pakistan: Islamabad, Karachi, Lahore, Peshawar, Quetta
Philippines: Manila
Singapore: Singapore
South Korea: Seoul
Sri Lanka: Colombo
Taiwan: Taipei
Thailand: Bangkok
Vietnam: Ho Chi Minh City

MIDDLE EAST (Country/City)
Bahrain: Manama
Egypt: Cairo
Israel: Tel Aviv
Jordan: Amman
Kuwait: Kuwait City
Lebanon: Beirut
Oman: Muscat
Qatar: Doha
Saudi Arabia: Damman, Jeddah, Riyadh
Syria: Damascus
U.A.E.: Abu Dhabi, Dubai
Yemen: Sanaa
Trade Organizations
American Association of Advertising Agencies (AAAA)
American Advertising Federation (AAF)
International Advertising Association (IAA)
Adcraft Club of Detroit
Advertising Women of New York (AWNY)
The Ad Club
The Advertising Counsel
American Education Foundation
Women in Communications