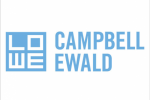 Lowe Campbell Ewald,
Detroit
Follow
Update
2000 Brush Street, Suite 601
Detroit, Michigan 48226
United States
Phone: (+1) (586) 574-3400
Fax: (+1) (586) 393-4657
About Us
Lowe Campbell Ewald is a full service, fully integrated advertising and marketing communications agency in the U.S. The agency provides both traditional and specialized capabilities including advertising; insights and strategic planning; integrated content strategy and development; digital; social, DM/CRM, retail and experiential marketing; and media planning and buying.
Philosophy & Competitive Advantages
We put our clients' best interests first, last and always. In 1911, Frank Campbell and Henry Ewald founded this agency on that promise. A promise that is as true today as it was then. It means doing the right thing, no matter what. Whether it's driving sales, building a brand, promoting a cause or igniting a movement, our work is a reflection of who we are. And who we are is a collective of thinkers, makers, dreamers and doers who come together to create meaningful connections between people and brands.
Network Description
As the U.S. hub for the Lowe and Partners global network, Lowe Campbell Ewald has offices in Detroit, Los Angeles, New York, and San Antonio, and access to 90 offices in 65 countries around the world.
Trade Organizations
Adcraft Club of Detroit
Advertising Club of Los Angeles
Advertising Council
Advertising Educational Foundation (AEF)
Advertising Research Foundation (ARF)
American Advertising Federation (AAF)
Better Business Bureau
Chambers of Commerce
Citizens Research Council of Michigan
Direct Marketing Association (DMA)
Direct Marketing Association of Detroit
Los Angeles Advertising Agencies Association (LAAAA)
Metro Visitors and Convention Bureau
Michigan Advertising Industry Alliance
Promotional Marketing Association
thinkLA (LA Advertising Club)