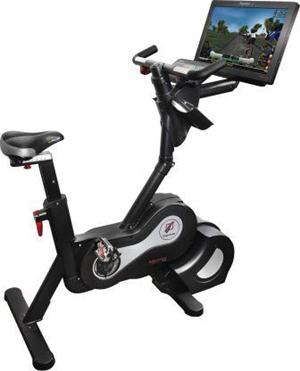 Sunnyvale, California – April 4, 2013 –
Last month, Interactive Fitness introduced the new
Expresso HD Bike
at the National Intramural-Recreational Sports Association (NIRSA) Annual Conference & Recreational Sports Exposition in Las Vegas, and it received rave reviews from college recreation leaders, including from attendees who competed in the NIRSA Interactive Cycling Challenge.
Gaining fans at dozens of colleges across the nation, the Expresso Bike from Interactive Fitness is an exciting new way to engage students and members. Additional information about the Expresso Bike from Interactive Fitness is available by going to the
Interactive Fitness college website
.
In Las Vegas, as an example of the kind of engaging community competitions available on the Interactive platform, the NIRSA Interactive Cycling Challenge featured eight men and eight women from colleges and universities across the nation, representing their schools in a single-elimination, bracketed cycling challenge. In the women's competition, Allison Yarrow from Millersville University won the title with Ali Casqueiro from Oregon State finishing second, Danielle Caldwell from Oregon State finishing third, and Emily Charnowsi from Boston College finishing fourth.
Casqueiro is the Membership Coordinator in the Department of Recreational Sports at Oregon State University. "I signed up to compete on the new Expresso HD Bike at NIRSA in Las Vegas to be part of something active and engaging in my first visit to NIRSA. I had never seen the Expresso HD Bike before, but as an avid cycler and as a cycling instructor, I was curious," said Casqueiro. "After my first ride on the Expresso HD Bike I was definitely hooked! The opportunity to ride against others, the whole interactive part, it was so different for me. Sometimes training for cycling can be a lonely sport; you need to visualize in your mind what a course might look like, with the Expresso Bike you don't need to visualize, it's all there for you. The courses were great, and varied, definitely challenging. That last ride we had I was exhausted. A whole different workout every time I was on the Expresso Bike. I've seen bikes like this before, but never rode on one. It was a really fun experience, I enjoyed the competition and the camaraderie, the virtual completion ability gives you the competitive spirit in a virtual setting that is refreshing and unique."
In the men's competition, Matt Stancel from the University of Iowa took first place and won the $300 prize, with Reed Phinisey from the University of Nebraska-Lincoln finishing second, Jared Utterback from Montclair State third, and Steve DiPaolo from Stanford University fourth.
DiPaolo is the Director of Marketing and Senior Coordinator of Rec Facilities in the Physical Education, Recreation and Wellness division of the Stanford University Athletic Department. "I had my first chance to ride the new Expresso HD Bike at NIRSA in Las Vegas. Overall, I was very impressed. When I'm working out normally I have a hard time psyching myself up, like on a spin bike or a stationary bike. The Expresso Bike makes the experience much more enjoyable," DiPaolo said. "I thought the new Expresso Bike was quite comfortable, as a cardio bike it offers a seamless experience. The only cycling I usually do is a spin class, but with the Expresso Bike there is so much to learn, so many options, and all of them are easy to learn, easy to control. It was an enjoyable experience. We rode over three different courses, one was a 2.5 mile course, the next a five mile course, the last day, a one mile time trial. The graphics were great, compared to other bikes I've seen it's like night and day. The Virtual Competition is sure a great differentiator – I think for a student or staff – giving them an additional incentive to compete on this bike. It creates an added element of excitement and interest. The two choices, competing with a friend or competing against your previous rides is impressive. I would definitely recommend the new Expresso HD Bike to anyone interested in bringing the experience of Virtual Competition in a state-of-the-art bike that encourages your riders and members."
Phinisey is the Graduate Assistant for Strength Training and Conditioning and a Personal Training Supervisor in the Campus Recreation department at University of Nebraska-Lincoln. "I had never ridden an Expresso Bike before, but I was informed of the competition prior to the conference and I was interested in what this equipment had to offer," said Phinisey. "Once competing and experiencing the equipment at varying intensities I was very impressed with its practicality. With being an avid cyclist I was mostly fascinated with the organic feel of the rides corresponding to courses we rode and it's response to the manual shifting features. The Expresso Bike was un-like any other stationary bike I had ever ridden before as the bike has features that most stationary bikes don't have, being the shifting capabilities and clip-in features. I would consider it the closest transparency to actually being outside and riding on a road or competitive bicycle. The experience was riveting to say the least, the features of this bike truly captured what it is like to ride outdoors whether that is competitively or just for recreation. The virtual competition with other colleges and other riders is great! It gives us recreational professionals an opportunity to offer some truly special programming to our student populations. I feel this type of equipment is on the cutting edge of fitness technology and with the ever-growing interest in the virtual aspect it is definitely a piece of equipment to consider for purchasing."
Well beyond a stationary bike, the Expresso Bike from Interactive Fitness is the one product that does it all. It enables riders to experience full virtual reality, as they ride through over 40 different "worlds," ranging from a one-mile speed course to a 20-mile mountain climb. And it replaces "cardio isolation" by keeping the riders "social" -- every Expresso Bike is connected via the Internet, enabling riders to share their rides, and compete "virtually" with riders in other locations around the country, instantly. The Expresso Bike features state-of-the-art electronics and features designed to stimulate the mind as well as the body, and enable riders in one location to virtually race against another rider or group of riders in another location. These "Virtual Races" are stored and remembered, tracking progress automatically as the rider becomes stronger and healthier.
For additional information on the
Expresso Bike
from Interactive Fitness, visit the
Interactive Fitness college website
.