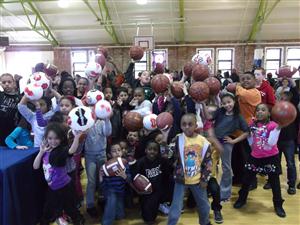 April 3, 2013 (Brockton, MA) – Good Sports, a national nonprofit organization, and GEICO teamed up to support the sports program at the Boys and Girls Club of Brockton by providing them with a variety of sports equipment, including basketballs, soccer balls and flag football equipment. Most importantly, the program will receive basketball uniforms for the boys' travel team.
"Activities like team sports can help students learn about teamwork, commitment, character, time management and sportsmanship," said Rick Hoagland, GEICO regional vice president. "Students need proper uniforms and equipment to learn these lessons, and we're pleased to partner with Good Sports to help support the sports program at the Boys and Girls Club of Brockton."
As the Boys and Girls Club of Brockton's Athletic Director, Mario Lamarre explains, "This donation is giving us more hope. Even with the best staff in the world, it is difficult to run effective programming without proper equipment. With this donation, we will be able to run numerous activities on a nightly basis, and that will help us enhance our reach to even more of these youth in the Brockton Community."
The donation is part of an ongoing community partnership between Good Sports and GEICO that will help bring new equipment and resources to youth sports organizations in Massachusetts throughout 2013.
"Our goal is to ensure all kids have the opportunity to engage in sports and fitness and all the benefits that go along with those opportunities. We are excited to partner with GEICO to make this donation to the Boys and Girls Club of Brockton as we believe this donation will give more kids a chance to participate," said Christy Keswick, chief operating officer at Good Sports.
About GEICO
GEICO
(Government Employees Insurance Company) is a member of the Berkshire Hathaway family of companies and is the third-largest private passenger auto insurance company in the United States. GEICO provides millions of
auto insurance quotes
to U.S. drivers annually. The company is pleased to serve more than 11 million private passenger customers and insures more than 18 million vehicles (auto & cycle).
GEICO's
online service center
helps policyholders take care of policy sales, policy changes, claims reporting and to print insurance ID cards.
GEICO also provides insurance quotes on motorcycles, all-terrain vehicles (ATVs), travel trailers and motorhomes (RVs). Coverage for boats, life, homes and apartments is written by non-affiliated insurance companies and is secured through the GEICO Insurance Agency, Commercial auto insurance and personal umbrella protection are also available.
For more information, go to
www.geico.com
.
About Good Sports
Good Sports helps to lay the foundation for healthy, active lifestyles by providing athletic equipment, footwear, and apparel to disadvantaged young people nationwide. By partnering with sporting goods manufacturers, Good Sports is able to get the necessary equipment into the hands of the kids that need it most, giving them a chance to get in the game. Since 2003, Good Sports has provided over $6 million worth of equipment to nearly 750 youth programs, impacting more than 400,000 kids. For more information on how you can support Good Sports, please visit
www.goodsports.org
.