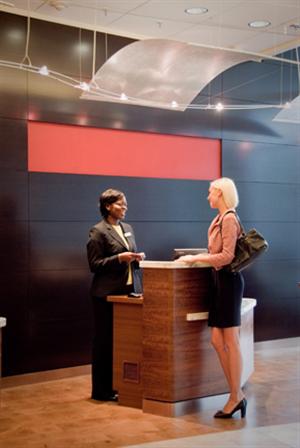 Washington, D.C. A new 226-room Courtyard by Marriott hotel in prestigious Chevy Chase, MD on the Maryland/Washington, D.C. border is now open to the public. Grosvenor Americas, the international property development and investment company, has completed a $35 million renovation and re-branding of the original 39-year-old building, and is proud to introduce this hotel as Courtyard by Marriott's "refreshing business" concept designed by and for business travelers.
Located at 5520 Wisconsin Avenue in the heart of Chevy Chase and just three blocks from the Friendship Heights Metro station, the hotel is surrounded by upscale shops such as Saks Jandel, Saks Fifth Avenue, Brooks Brothers, Bloomingdales, and Neiman Marcus, as well as dozens of restaurants featuring cuisine from all over the world. It is close to such major business employers as the National Institutes of Health, American University, GEICO, the National Naval Medical Center, and numerous embassies.
The new Courtyard by Marriott Chevy Chase is designed to meet the criteria for the Gold LEED (Leadership in Energy and Environmental Design) rating from the U.S. Green Building Council (USGBC). LEED is an internationally recognized certification system that measures how well a building performs across a number of areas that matter most: energy savings, water efficiency, carbon dioxide emissions reduction, improved indoor air quality, stewardship of resources, and sensitivity to environmental impact.
The hotel's "green" features include 100 percent renewable energy provided by wind power, which greatly reduces the operational carbon footprint; a reflective roof; energy-efficient lighting and HVAC systems that do not use ozone-depleting refrigerants; energy-efficient windows; low-VOC adhesives, paints, carpets, and sealants; low-flow shower heads and dual-flush toilets; an energy management system; special parking for hybrid cars; a "bike-to-work" program for employees; a centralized recycling station for on-site sorting; and a solar-powered trash compactor.
"The Chevy Chase Courtyard is a perfect example of Grosvenor's worldwide commitment to `living cities,'" said Mark Darley, Senior Vice President and General Manager of Grosvenor Americas' Washington, D.C. office. "Over the course of its 300-year history, Grosvenor has developed millions of square feet of retail, hotel, residential, and office space in many of the world's most vibrant and prestigious urban neighborhoods. Our partnership with Marriott is based on both companies' international business expertise and commitment to sustainability."
"In our effort to bring the new Courtyard concept to Chevy Chase, which is very close to our own headquarters, Marriott has found an excellent partner in Grosvenor Americas," said Liam Brown, Executive Vice President, Select Service and Extended Stay Development for Marriott. "Grosvenor is a company that realizes the potential of mixed-use urban neighborhoods and invests for the long term."
"From day one, Courtyard has prided itself as a brand that listens to what business travelers want from a hotel," said Brian King, Vice President and Global Brand Manager, Courtyard by Marriott. "Guests want more control and choice with services and amenities that create a healthy balance between working and relaxing. We redefined the Courtyard lobby so it invites guests to get out of their rooms to work, socialize or for entertainment, whether traveling alone or with colleagues."
Guests are welcomed at the new Courtyard by Marriott Chevy Chase with an open, bright, and contemporary hotel lobby, where the traditional front desk has been replaced with separate welcome pedestals to create more personal and pricvate interactions when guests check in. Inside the lobby, flexible seating options include a communal table, private media booths with high-definition televisions, and a lobby bar.
A signature element of the new lobby is the exclusive Courtyard GoBoard(TM), a 52-inch LCD touch screen packed with local information, maps, weather, and headlines. Guests can navigate using the touch screen to find restaurants, local attractions, and directions.
Guests can connect to free WiFi throughout the hotel. The lobby's spacious business center features complimentary computers along with printers and fax facilities, in addition to separate computer stations dedicated to printing airline boarding passes and checking flight status.
Dining has been completely redesigned with "The Bistro -- Eat. Drink. Connect," which offers healthy menu options for breakfast, lunch and dinner, as well as a full service bar offering wine, locally brewed beers, and cocktails. The Market(TM) provides round-the-clock options for salads, sandwiches, snacks, beverages, and sundries.
Other hotel amenities include over 3,000 square feet of meeting space that can accommodate small and large meetings and banquets; a second-floor patio area overlooking Wisconsin Avenue; a seasonal outdoor pool; and a state-of-the art fitness facility.
Last year, Marriott announced its environmental strategy to address climate change, called "Spirit To Preserve." The plan calls for greening its $10 billion supply chain; further reducing fuel and water consumption by 25 percent per available room and installing solar power at up to 40 hotels by 2017; creating green construction standards for hotel developers to achieve LEED certification from the U.S. Green Building Council; educating and inspiring employees and guests to support the environment; and helping protect the rainforest. For updates on Marriott's progress against its green goals, visit www.marriott.com/spirittopreserve, follow Green Marriott on Twitter, and become a fan of Travel Green on Facebook.
The Courtyard by Marriott Chevy Chase is managed by Hospitality Partners, which is based in Bethesda, Maryland, and operates a number of hotels throughout the Washington, D.C. area, including multiple Marriott brands. Mike Dickens, President of Hospitality Partners, currently serves on the Marriott Franchise Advisory Council.
To make a reservation at the Courtyard by Marriott Chevy Chase, please contact Jodi Shapiro, Director of Sales, 1-800.321.2211, Jodi.shapiro@cychevychase.com, or reserve online at Marriott.com/wasvy. To learn more about Courtyard's new lobby concept, visit www.gocourtyard.com to see guest-guided video tours and get the latest news about the brand.
Grosvenor Americas acquired this property in Chevy Chase in late 2004 as part of a 464,000 square foot urban retail portfolio. It had been operating as a Holiday Inn since opening in 1970 until it closed in June, 2008. The acquisition included the adjoining 40,000 square foot Chevy Chase Plaza, home to retail tenants Brooks Brothers, Saks Jandel, Sylene's, and Bank of America. Grosvenor Americas has added 1,500 square feet of new retail space to the complex as part of its renovation of the hotel.
Grosvenor is a privately owned property group with offices in 17 of the world''s most dynamic cities. We have five regional investment & development businesses in Britain & Ireland, the Americas, Continental Europe, Australia and Asia Pacific. Our international fund management business operates across all these markets. As of December 31, 2008, these six businesses had total assets under management of USD$18.1 billion. Unusually for a private company, Grosvenor publishes a full Annual Report and Accounts, available at www.grosvenor.com.
###