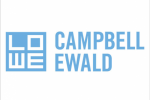 Lowe Campbell Ewald,
Detroit
Follow
Update
2000 Brush Street, Suite 601
Detroit, Michigan 48226
United States
Phone: (+1) (586) 574-3400
Fax: (+1) (586) 393-4657
Campbell Ewald Awards CE CITY Scholarship
June 27, 2013
Marketing communications agency Campbell Ewald (CE) announced today that it has awarded its CE CITY Scholarship to Matt Roman, a Riverview, Mich., native currently enrolled at the College for Creative Studies (CCS).

Roman, a senior in CCS' Advertising Department, will receive tuition funding for his final year of study as well as employment at CE upon graduation. CCS is a private, fully accredited college located in Detroit that offers both Master and Bachelor of Fine Art degrees to more than 1,400 students pursuing creative disciplines. CE established the CE CITY Scholarship in 2011 to demonstrate its commitment to developing the next generation of creative talent in Detroit and offer students an early inside look at a career within the ad industry.

"This scholarship recognizes the incredible creative abilities that Detroit area college students have to offer," said Mark Simon, Chief Creative Officer at Campbell Ewald. "We saw an impressive array of strengths and talents this year and were blown away by their knowledge of the industry, their conceptual thinking and their execution skills. We're excited to have Matt joining CE and to help him develop his talents further."

CE CITY Scholarship applicants are required to participate as a mentor in the CE CITY Workshop, a hands-on experience for Detroit high school students to learn about the advertising creative process from CE professionals, CCS faculty and CCS students. Scholarship recipients are chosen based on successful leadership within the Workshop, creative portfolio submissions and personal CE executive interviews.

"This scholarship and mentoring program has become an amazingly successful part of the experience our students receive in the Advertising Department," said Mark Zapico, Chair of the Advertising Department at the College for Creative Studies. "Not only are they working in a real-world environment, they are taught that giving back to the community is as important as the jobs they get. CE has been a major supporter of this award-winning program, and for that we are truly grateful."

Roman is a graduate of Riverview Community High School and currently majoring in advertising and minoring in graphic design at CCS. His employment with CE will begin upon graduation in 2014.

About Campbell Ewald
Campbell Ewald is one of the nation's largest communications brands, made up of a collective of thought leaders with innovative capabilities both traditional and specialized, including advertising; insights and solutions planning; integrated content strategy and development; social, relationship, retail and experiential marketing; interactive/digital; and strategic media planning and buying.

Campbell Ewald has offices in Detroit, Los Angeles, San Antonio, Miami and Washington, D.C. A part of The Interpublic Group of Companies (NYSE:IPG), CE partners with a score of national and regional brands, including Alltel Wireless, Carrier, Chicken of the Sea, Consumers Energy, General Motors, Ghirardelli, Kaiser Permanente, Olympic Paint and Stain, OnStar, USAA, the United States Navy, Western Governors University and Zipcar.

About College for Creative Studies
Located in the heart of Detroit, the College for Creative Studies (CCS) educates artists and designers to be leaders in creative professions. A private, fully accredited college, CCS enrolls more than 1,400 students pursuing Bachelor of Fine Arts (BFA) and Master of Fine Arts (MFA) degrees.

Students in the BFA program can major in Advertising: Copywriting, Advertising Design, Crafts, Entertainment Arts, Fine Arts, Graphic Design, Illustration, Interior Design, Photography, Product Design and Transportation Design, in addition to a dual major Art Education program. Students in the MFA program can major in Interdisciplinary Design and Transportation Design. The College also offers non-credit courses in the visual arts through its Continuing Education programs and opportunities for youth through its Community Arts Partnerships programs.