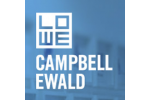 Lowe Campbell Ewald,
Warren
Follow
Update
30400 Van Dyke Avenue
Warren, Michigan 48093-2316
United States
Phone: (586) 574-3400
Fax: 586 558-5896
Launched on Father's Day, New National PSAs Promote Fun and Affordable Ways to be an Involved Father
June 22, 2011
"The smallest moments can have the biggest impact on a child's life. Take time to be a dad today." That's the campaign message of new public service advertisements (PSAs) that launched as part of a nationwide recognition of Father's Day. Campbell Ewald (CE) created the PSA's pro bono as part of a long standing, 15 year effort to encourage fathers to be more involved in their children's...