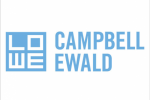 Lowe Campbell Ewald,
Detroit
Follow
Update
2000 Brush Street, Suite 601
Detroit, Michigan 48226
United States
Phone: (+1) (586) 574-3400
Fax: (+1) (586) 393-4657
Campbell-Ewald's 11th Annual Creativity for Kids
August 6, 2009
Warren, Mich.
Campbell-Ewald
put their own spin on the concept of "bring your kids to work day" during their 11th annual Creativity for Kids event held last week. The agency was transformed inside and out with fun-filled activities for employees and their young relatives. "This annual tradition allows our employees to share their work experiences and environment...