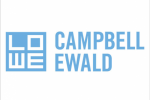 Lowe Campbell Ewald,
Detroit
Follow
Update
2000 Brush Street, Suite 601
Detroit, Michigan 48226
United States
Phone: (+1) (586) 574-3400
Fax: (+1) (586) 393-4657
EPA Taps Campbell-Ewald for Childhood Lead Poisoning Awareness Campaign
July 29, 2009

Warren, Mich. The U.S. Environmental Protection Agency has chosen Campbell-Ewald to partner with them in their mission to eliminate childhood lead poisoning by providing marketing support for the Renovation, Repair and Painting (RRP) rule. "As one of the largest providers of marketing communications services to federal government agencies, our thorough and deep insights into the EPA's target audiences...