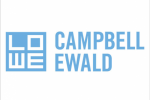 Lowe Campbell Ewald,
Detroit
Follow
Update
2000 Brush Street, Suite 601
Detroit, Michigan 48226
United States
Phone: (+1) (586) 574-3400
Fax: (+1) (586) 393-4657
Campbell-Ewald Dominates and Sets Records at 2009 DMAD Target Awards
June 9, 2009
DETROIT, June 9, 2009 - For the ninth straight time, Campbell-Ewald dominated the Direct Marketing Association of Detroit (DMAD) Target Awards bringing home nine awards on behalf of six clients, including the coveted 2009 Golden Target Award for the agency's U.S. Postal Service "Environmailist™" campaign. In addition to the wins, Campbell-Ewald set two first-ever records: the first agency to have...