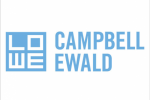 Lowe Campbell Ewald,
Detroit
Follow
Update
2000 Brush Street, Suite 601
Detroit, Michigan 48226
United States
Phone: (+1) (586) 574-3400
Fax: (+1) (586) 393-4657
Campbell-Ewald Celebrates Red Wings Stanley Cup Finals
June 1, 2009
DETROIT, June 1, 2009 - When Red Wings playoff tickets are on the line, the sharpshooters come out of the woodwork. Hundreds of Campbell-Ewald employees competed in a slapshot challenge on Friday, May 29, for the chance to win a pair of tickets to Game Two of the Stanley Cup Finals. Employees gathered in the Campbell-Ewald parking lot to enjoy a Little Caesars pizza lunch and watch the ten finalists...